August 10th, 2014 in Anime, Conatining the "Outbreak", General Reviews by The Droid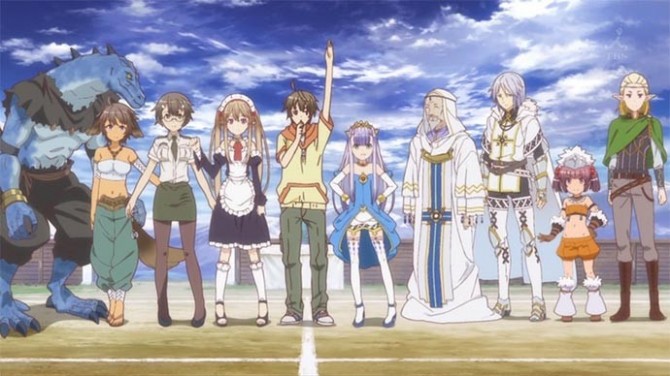 "Outbreak Company" has the strangest idea for an anime I have seen in some time: what if you could import your culture to another race?
Shin'ichi Kanōu (right on the midfield line) is a young otaku, almost a hikikimori, who is offered a job by Jinzaburō Matoba (not pictured; he's a stiff, anyway) because of his vast knowledge of anime, manga and video games. Just after meeting his new employer, he is kidnapped, awakening in an alternate world with a fantasy setup. Shin'ichi then is informed that he was in fact selected by the Japanese government to help improve his country's relations with this new world by establishing a company to spread the unique products of the Japanese culture to this raw, unexplored market.
Ah, but in a show like this, there are always dark motive and hidden agendas. A portal of some ilk has been discovered by the Japanese, which takes them to the Holy Eldant Empire. There, he is going to teach everyone about the glories of anime and manga and gal games and figurines and body pillows and whatever Akihabara has to offer….but at a stiff price. (more…)