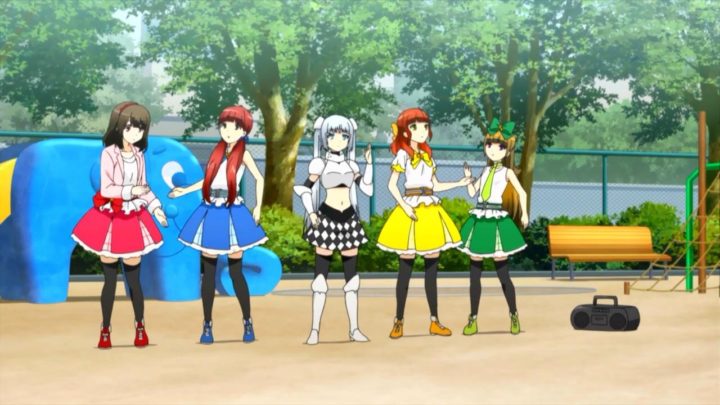 The second season of "Miss Monochrome" has come and gone, and since they are brief episodes, it can get past you really quickly. However, the cohesion in this series got better for the next go-around. Originally Miss Monochrome (and she is a robot or android of some ilk) wanted to be an idol singer, trying to supplant Kikuko as Japan's top idol, but since she doesn't tour and doesn't have an album, it's really hard, when all her efforts are to get her seen and heard and adored, but they are not working and she is just another face at the local Kwik-E-Mart. The arrival of Yayoi Konno helps things along. She is a record promoter for a small label, but wants to help Monochrome succeed. They work towards the album and the big tour, even getting her idol back-up dancers, Caramel (that's them up there rehearsing).
Now, all of these people still haven't got a clue as to what the record industry is like and Yayoi is too over-zealous in getting things for Monochrome (she is just as ditzy as the other), but events and actions slowly come to fruition and as we close out the season, the concert in on the horizon….to be addressed in season three. I sometimes wish it wasn't that goofy and oddball and out-of-focus. Ever watch a TV series where the main character does nothing but still manages to make things work? This show is like that. The idea is a nice one, but the execution gets tiring at times. We are at least pointed in a better direction to somehow balance the strange with a real end result.
This is certainly a slight series (the shows are actually about five-and-a-half minutes long) but they manage to pack it a lot of madcap action, as everything that Monochrome does seems to work against her and her lofty goals, but somehow works out in the end. The additional characters really rounded out things, so it wasn't a one-note Johnny, as a lot of these short shows can become. I can hardly wait for the third season when all this effort finally pays off.
On a scale of 1 to 10:
Artwork           8 (Really improved, despite more oddities)
Plot                  7 (Better, but needs more work)
Pacing              7 (A hard row with only 5 ½ minutes)
Effectiveness   8 (Getting better all the time)
Conclusion      7 (It reaches a 'coupler point', but hasn't ended)
Fan Service     0 (A similar show would be "Honey and Clover")
Overall            8 (Picking up speed)
And remember, it's first run until you've seen it. I'll stand out much, much more.