April 26th, 2015 in Gurizaia no Kajitsu by The Droid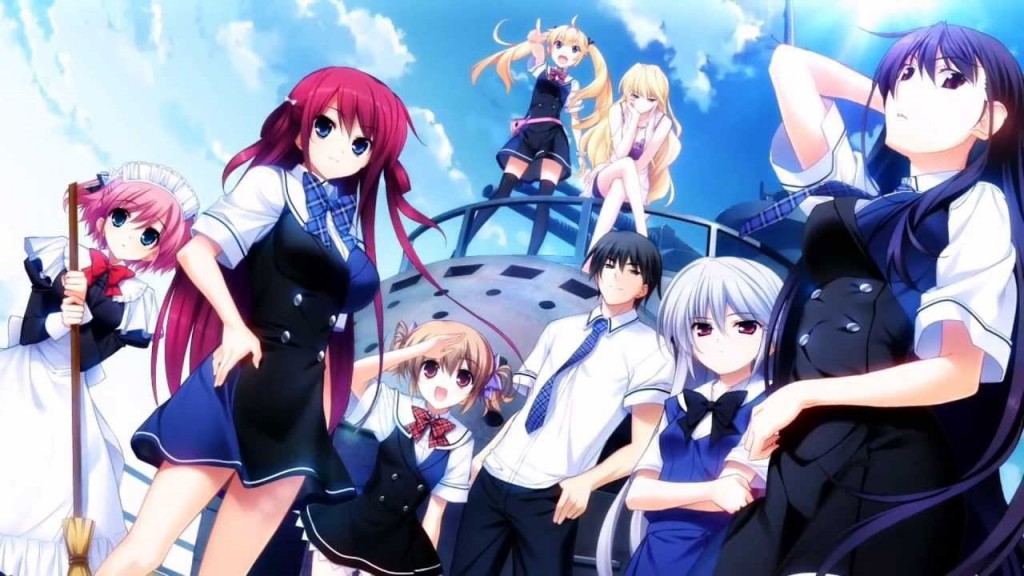 I'm not really certain how to take Le Fruit de la Grisaia ("Gurizaia no Kajitsu" or "The Fruit of the Grisaia"), as it doesn't make a whole lot of sense, as much is kept hidden from you and you must take a kind of voyage of discovery to understand it all.
Yūji Kazami (the only guy) transfers to Mihama Academy, a school with only five female students and prison-like features. Every student in the school have their own "circumstances" for being there, but Yūji is not required to do anything about their situation, as he asked for a normal student life. This is funny, as there is nothing 'normal' about him or the school. He has a questionable and/or unsavory past, which he tries to forget, but not even a zebra can change its stripes.
The five ladies, whom he shares an almost empty classroom with, are (left to right):
Sachi Komine. The maid. She always wears the maid outfit as a sense of duty.
Amane Suou. She is kind of the house mother and wants to seduce Yuji
Makina Irisu. Although innocent and carefree, she suffered a deep emotional shock
Michiru Matsushima. She is standing atop that thing and has a split personality, so you never know who you are talking to.
Yumiko Sakaki (far right). Don't mess with her, as she wields a box cutter with devastating results. (more…)