June 25th, 2015 in Ookami Shoujo to Kuro Ouji by The Droid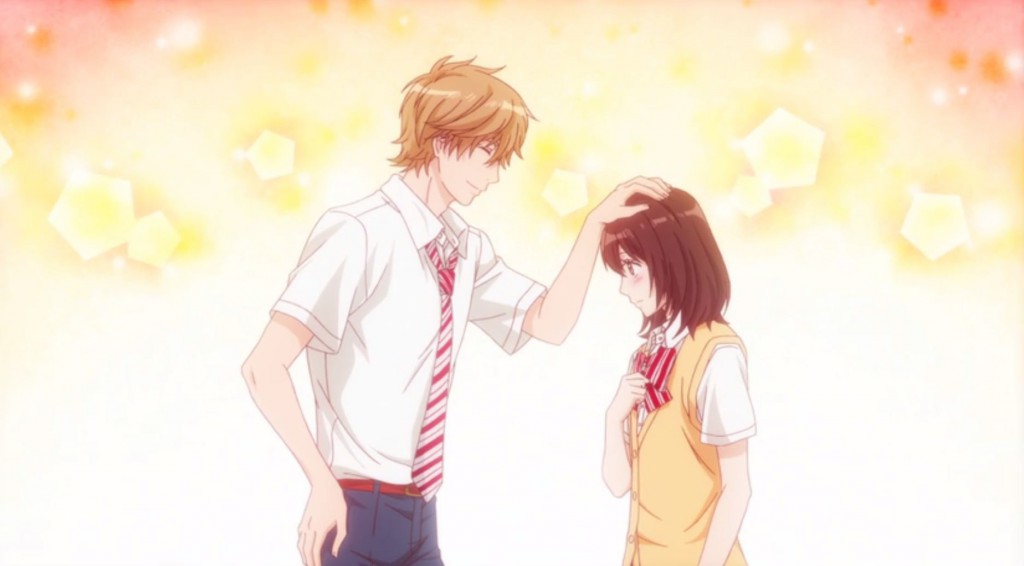 As I mentioned earlier, there has been a lot of romantic comedies coming out. This one "Wolf Girl and Black Prince" ("Ōkami Shōjo to Kuro Ōji") is an interesting take on things in the realm of high school love.
The story centers around Erika Shinohara, a 16-year-old girl who tells her friends about her romantic exploits, but she actually has no boyfriend. Well, you had best produce, so she claims that the handsome boy in a candid photo on her phone is her boyfriend, but it turns out that boy is a schoolmate named Kyōya Sata. She has no choice but to make him her fake boyfriend. Unfortunately, Sata may look like a sweet person, but he is actually an ultra-black-hearted sadist. Sata takes advantage of Erika's weakness and treats her like his dog.
And, I mean, he is really mean. He doesn't exploit her or really blackmails her, but he is as cold as they come and Erika feels trapped into this all. This is where some of my resentment crops up. A couple of opportunities arise that she could dump him and just write it off as 'things didn't work out.' It also brings up the second question: what if her two friends, Marin Tachibana and Aki Tezuka, are also faking it and they really don't have boyfriends? Just a thought. (more…)