April 16th, 2015 in Psycho-Pass, Short Run Series by The Droid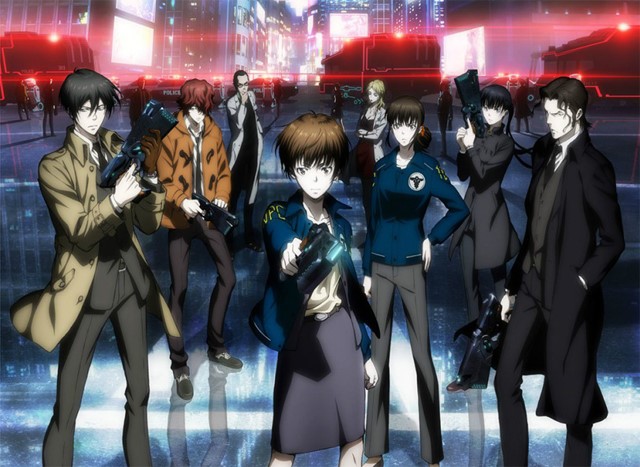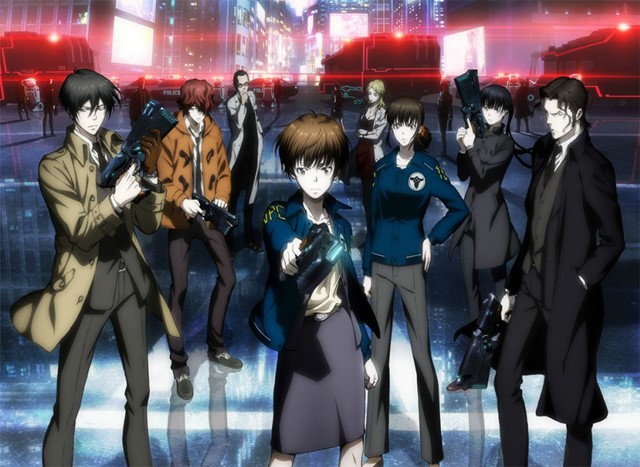 When the first season of "Psycho-Pass" came out, I enjoyed it, as it was a crime drama with a hinting of horror. When the second season came out, it was now a horror show, with a hinting of a crime drama. That changed the pitch of the show…..and badly.
I think it's been about two years since the incidents of the last season (can't tell for certain) and the cast has changed and been added to. The new line up, from left to right, consists of:
Nobuchika Ginoza (was an Inspector, now an Enforcer), Sho Hinakawa (new this year, Enforcer), Joji Saiga (seen last year, now being 'rehabilitated'), Akane Tsunemori (now head of Division One), Shion Karanomori (another holdover, she is Data Analysis), Mika Shimotsuki (was a student last season, now an Inspector), Yayoi Kunizuka (another Enforcer holdover from last season) and Sakuya Togane (new Enforcer and very cloistered).
The show came in with a great premise: What if you could keep you hue clear? You see, the Sibyl System rates a person by the color of their hue (or stress level). If it goes over 100, you are to be taken in to custody for 'rehabilitation'. If it goes over 200, the only cure for that is death, as you are a real latent criminal. The Dominator, that gun they possess, can rate a person's hue and will allow you to shoot it. If the hue is below 100, it will not let you fire it. But you, as an Inspector, can override the gun's setting and allow you to stun the person, not kill them. For some odd reason, that aspect is absent, so we are treated to a lot of people being killed. (more…)