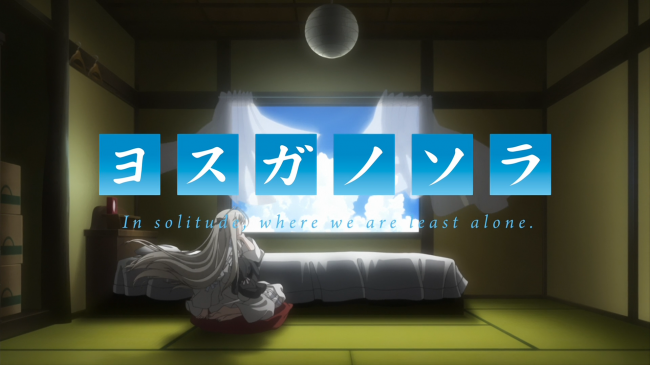 Finally doing a review again. I really need to stop rambling so that I can get to more of these.
I love myanimelist.net. I really do. It's the best place to figure out where to begin when you're trying to diverge from "mainstream" anime. Being that the site aims to catalogue every anime in existence, I'm bound to come across a lot of junk. But then there are those anime I find that are real gems. Yosuga no Sora is one of those gems.
Twins Sora and Haru have just lost both their parents. The first scene of the show opens with the two of them sitting across from each other on a train. Sora and Haru quickly move into a quaint little town and get to know all of the other young teenagers who live there. The short series, concluding at 12 episodes, follows 4 story arcs each at 3 episodes. Each arc involves Haru befriending and later developing a sexual relationship with a different girl.
Obviously, this show is famous for its incest content, which does not even happen until the final story arc. I always hear "Oh it's not as taboo in Japan but still considered wrong". Granted, it is only anime but at the time I was watching this I'd only seen around 10 anime and of these 4 of them (the other 3 being Elfen Lied, Kaze no Stigma, and Fruits Basket) had paired off family members! That's nearly half! Clearly this is a popular issue in Japan.
I really didn't know what to expect upon watching the first episode but by the end of it I was not only entertained but very interested in seeing what happened next. At first glance, Yosuga no Sora can be written off as an ecchi, sometimes labeled as "soft hentai", but with eye catching visuals, an enchanting, mystical setting, and surprisingly well-developed characters those terms just wouldn't do the show any justice. (more…)