August 24th, 2014 in Anime, General Reviews, Nisekoi by The Droid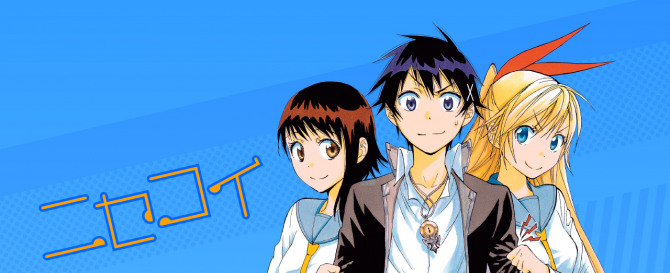 What if "Romeo and Juliet" met "My Bride is a Mermaid"? You would end up with "Nisekoi", a quite entertaining romantic comedy, although one can argue the use of the term "romantic".
"Nisekoi" ("Fake Love" or "False Love") tells the tale of high school student Raku Ichijo, the son of a leader of the yakuza faction Shuei-Gumi. A new kid is on the block, yakuza faction Beehive. There is that gang/turf war confrontation and this can only lead to bloodshed and unwarranted police interest. Into Raku's life leaps Chitoge Kirisaki….literally. Blondie jumps a wall to find Ichijo there and knees him in the face. Ooooops! However, this little incident causes him to lose his locket (you can see the monstrosity hanging from his neck). He discovers she is a transfer student into the school and forces her to look for the locket. Their deep and abiding hatred foments at this time.
Upon returning home, Raku learns that the Shuei-Gumi and Beehive gangs have agreed to settle their feud….by pairing their leaders' children. Raku learns that his girlfriend-to-be is none other than Chitoge. For the next three years, they must pretend to be in a relationship to maintain peace between the gangs. If they fail at any point, the truce is off and everyone dies! No pressure, right? (more…)