December 21st, 2014 in Anime, Brynhildr in the Darkness, General Reviews by The Droid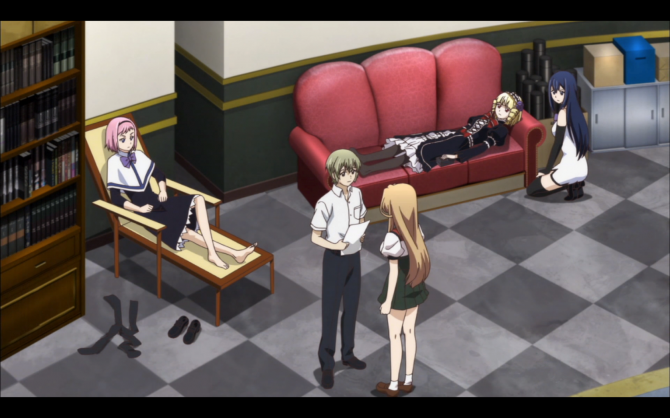 This can be properly categorized as a 'witch show', but this is no 'magical girl' show. It might be closer aligned with "Black Rock Shooter" in the caliber of despair that it generates, but I get ahead of myself. This is an unhappy show. Not a sad show. A sad show is like "Air the Series" or "5 Centimeters per Second". This one is unhappy is that everyone…it looks like I'm taking the chute back to Square One, as I'm getting ahead of myself.
"Brynhildr in the Darkness" ("Gokukoku no Buryunhirude" "Extreme-Black Brynhildr") is an odd cat of a story, mainly because it doesn't know what it wants to be.
Ryouta Murakami is head of the astronomy club. They even have this far out observatory to use. (No, I mean far out; he has to take a couple of bus lines to get to the thing) Too bad there isn't a single other person in the club. I mean, what gives? I know if there was an astronomy club at my high school, I'd be there (we had a chess club. If I had joined, I'd be called 'Carpet', as I'd have been laid out the entire time.) (more…)