October 5th, 2014 in Anime, Chronicles of the Going Home Club, General Reviews by The Droid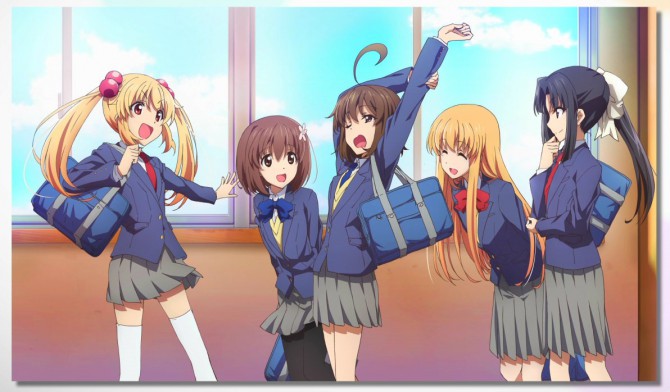 "Chronicles of the Going Home Club" is another in a long series on 'nothing' shows, although they eventually decide to do 'something'. Closer aligned with "Joshiraku" and "Nichijou", it tells the stories of five girls who just want to have a good time.
For those unfamiliar with the term, the "Going Home Club" refers to students who do not belong to any club, ending up going home to study or read anime or take a trip to Akihabara. But for this series, the Going Home Club is an actual club. Sure, they may play video games or eat snacks, but they eventually talk about stuff, things that have a bearing on their lives. So the first three or four episodes are spent setting up things, so nothing happens and what they talk and do is disconnected. So there is no real direction. But someone decides they need to have some degree of focus and that's when the show really takes off.
Our Slacker Sisters are (left to right):
Sakura Domyoji, president of the club and the 'ordinary' one.
Karin Tono, supervisor and a tad of an airhead (more…)