August 19th, 2014 in Anime, Fan Service Alert – "World" Harmony, General Reviews by The Droid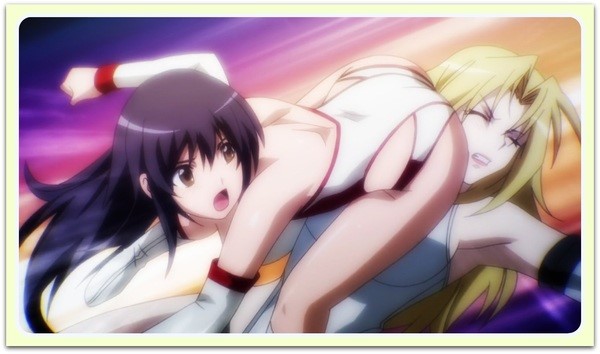 Now, let's drop the pretense. "I Wanna Be the Strongest in the World" is just a really thin excuse to show off female wrestlers and their body parts. The plot of the original story was practically transparent but the OVA drops everything.
There may be more than three shorts I ran across (about five minutes each), but you get to see all that you want to see.
Somewhere in the bowels of the Berserk Gym is a special room, a room filled with mud, so the ladies can learn all there is to know about mud wrestling. Is this an Olympic event or is Hooters hiring? So the ladies learn that mud is slippery and, in trying to acclimate themselves as to what to do, costume tops gets pulled down and the boobies come out, unfettered and uncensored. There is squealing and not caring that one is topless amid other topless ladies as we slop about and slide through and roll hither and thither. (more…)