July 9th, 2012 in Anime, Fooly Cooly (FLCL), General Reviews by The Droid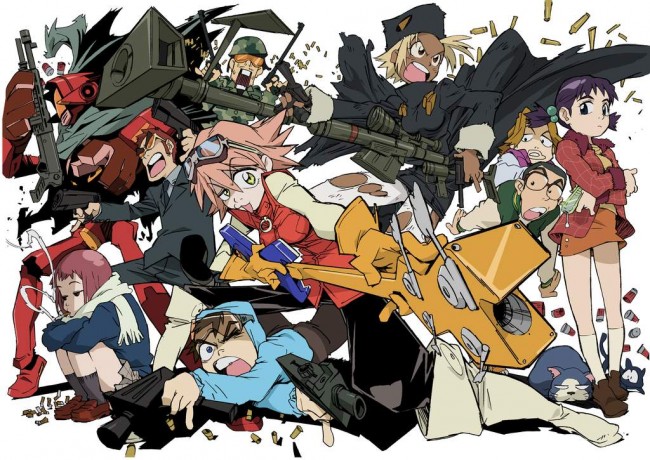 This is one wild and crazy show that needs multiple viewings to make certain that you can figure out what it all means. You may fail, but this is a show that keeps you on your toes.
The basic plot is about Naota Nandaba (he's the one in blue at the bottom). He lives in Mabase, a suburb ofTokyo. The city scenery is dominated by the Medical Mechanica building, which looks like a giant flatiron and I mean GIANT. While standing on a bridge, talking with Mamimi Samejima (ex-girl friend of Naota's older brother, the smoker at the far left), Haruko Haruhara bursts onto the scene,  running Naota over with her Vespa scooter, then giving him CPR and finally hitting him on the head with a blue vintage Rickenbacher 4001 left-handed electric bass guitar (that dead-center maniac).
This creates a horn on his head, from which later on, a robot emerges from it. Now, if that wasn't bad enough, Haruhara turns up to be a live-in maid at his house, making an already bad situation even worse for him. And from there, things get progressively stranger. Yes, it DOES get progressively stranger.
Can one really codify the show and not give away huge chunks of the plotting?  I mean, it is only six episodes and it a show that requires a real intensity of watching, because if you miss something, you really miss something. And since it moves at this breakneck pacing, playing catch-up is something you really don't want to do. (more…)