October 6th, 2015 in Akatsuki no Yona, Anime, General Reviews by The Droid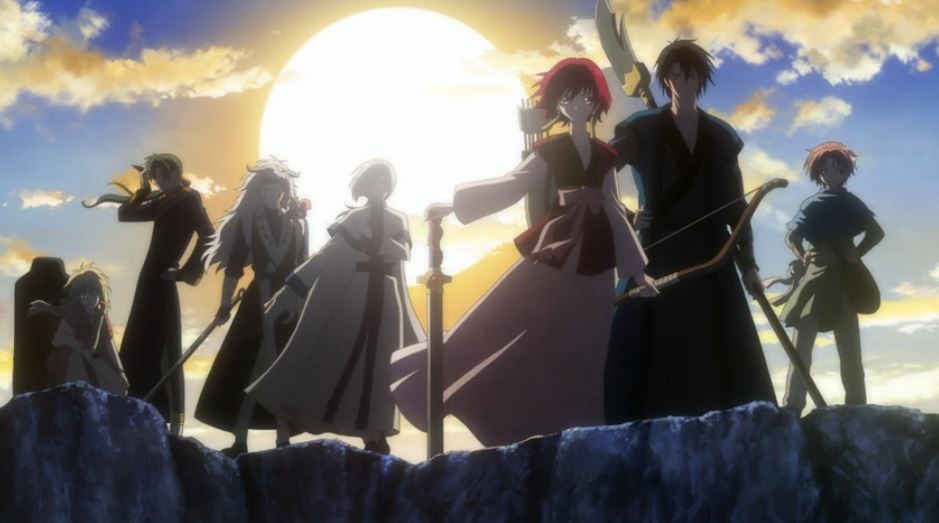 This isn't necessarily a 'girl who saves the world' anime, but "Akatsuki no Yona" ("Yona of the Dawn", also known as "The girl standing in the blush of dawn") certainly embraces a woman who goes from wallflower to being front and center (that's her, front and center).
We start off in the kingdom of Kouka, with Yona as your typical pampered princess, whose biggest concern might be chipping a nail (actually, it's her flaming red hair; she hates it). Along with her bodyguard Son Hak (off her left shoulder) and childhood friend Soo-won, they live a happy, sheltered life….until on her 16th birthday celebration, she sees Soo-won kill her father, King Il, and engineer a coup. The reason behind it, the king was weak and deserved to die. Well, that's been a pretty good reason to kill rulers since we've had rulers. Yona and Hak escape, as Hak is the Thunder Beast and can use that blade of his to devastating results. Sadly, both of them fall to their deaths from a high precipice while being pursued by the palace forces.
That puts a major crimp in things, as Soo-won was going to marry Yona, to give legitimacy to what he wanted to do as king. He can (and will) still proceed, but it just makes things a whole lot tougher. However, our demoralized duo is not dead, but has taken refuge with an oracle of some ilk, Ik-su. Offering his young apprentice, Yun (far right), as a guide, they have been instructed to hunt down the Four Dragons, as they have pledged their fealty to the King of Hiryuu castle. Wait, but she's a girl, so she'd be queen, right? Shhh, it's the emotional import. As the rightful heir and eventual ruler, she gets their support. Oh, and they aren't real dragons, with scales and a forked tail and breathing fire, but they have the attributes of a dragon. In my picture up there, you see all four of them (I'll break down that cast a bit later). (more…)