February 7th, 2016 in Ane-log, Anime, General Reviews by The Droid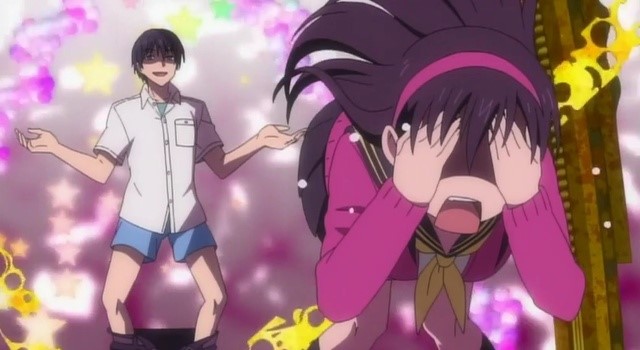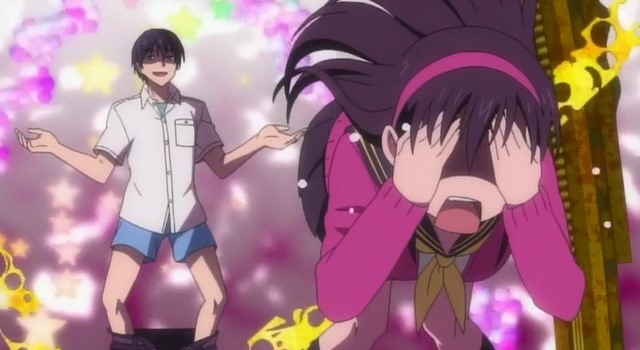 This particular comedy "Ane-log" ("Sister Log", or the complete title of "Ane-log: Moyako Nee-san no Tomaranai Monologue" which is "Moyako's Never-Ending Monologue") is strange in that it has a fundamental flaw, but that doesn't prevent us from having a lot of fun with it.
Many, many years ago, let's say 10 years earlier or so, Akira told his slightly older sister Konoe that he wanted to marry her. Now, at this very point in their lives, Moyako is wholly, solely convinced that Akira is a grand pervert who wants nothing more than to physically and emotionally subjugate her into being a sex slave. Nothing could be farther from the truth, but Moyako's overheated imagination runs rampant and even the slightest gesture or comment sends her reeling. SHE is the big pervert and nothing can rein in her unbridled thoughts.
The above scene comes from when Akira spilled coffee on himself and Moyako thinks he is going to use this as an excuse to strip down and flaunt his goodies before her. So what's the flaw? Why is it now? Why is all of this coming to fruition at this juncture in time? (more…)