February 21st, 2016 in Anime, General Reviews, Yamada-kun and the Seven Witches by The Droid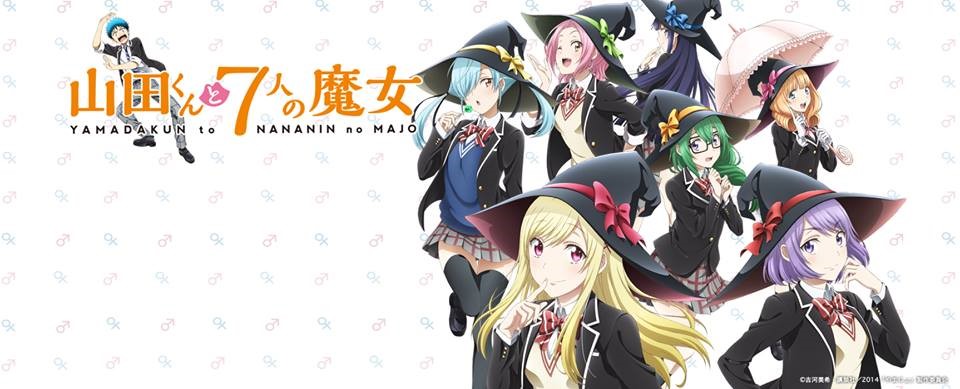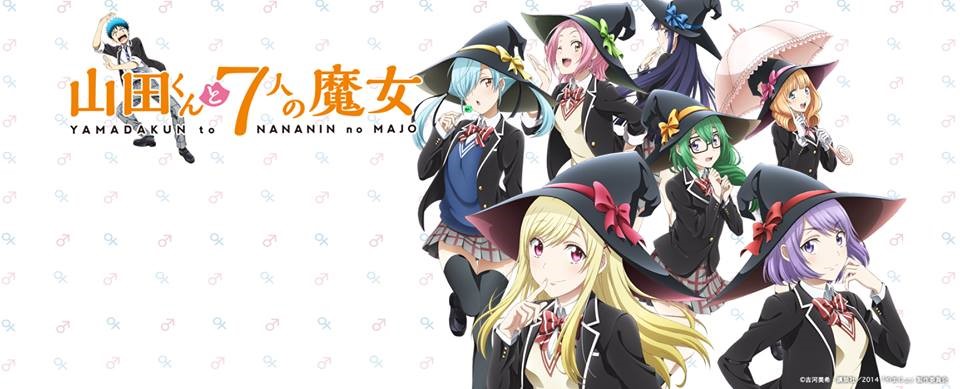 You knew this kind of series was coming: it's a magical girl show, set in a school, with guys trying to figure it all out and witches who seem to have an upper hand in things. CUTE witches (none of that old crone with a warty nose junk). But "Yamada-kun and the Seven Witches" ("Yamada-kun to 7-nin no Majo") at least tries to put a new spin on old things.
Ryu Yamada (Mr. Shrieky in the upper left) is known as a delinquent in his high school; he has become bored of classes after one year of attending school. Wow, life can't all be "Die Hard" or "The Expendables", right? One day, he accidentally falls from a flight of stairs onto Urara Shiraishi (blondie in front) the ace student of the school. Yamada wakes up to find that he has swapped bodies with her. The two try to reverse the change and discover that kissing triggers the body swap.
On the suggestion of student council vice-president Toranosuke Miyamura, they revive the Supernatural Studies Club. The supernatural phenomenon-obsessed Miyabi Itō soon joins the club. The club encounters other "witches" with different powers that are activated with a kiss. A transfer student, Kentarō Tsubaki, becomes a part of the club after nearly causing a fire to the old schoolhouse. The show is an attempt to understand the seven witches that populate it, what their powers are and what their actual purpose is. (more…)