October 5th, 2011 in Anime, General Reviews, Highschool of the Dead by The Droid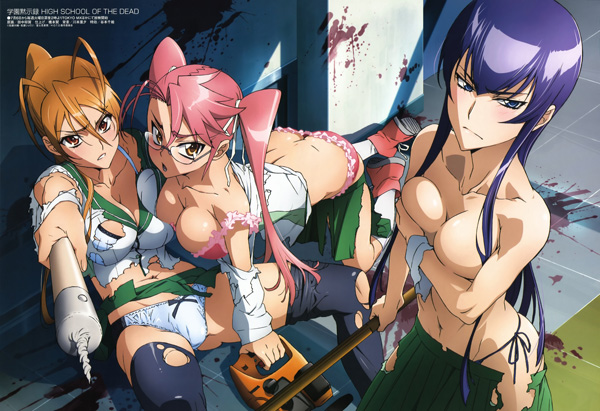 Certainly one of the more daring and vicious animes to come out in recent times is "High School of the Dead". Now, this is certainly not a genre which appeals to me. I mean, it's:
1)      Violent
2)      Zombie
3)      Horror
OK, it's not as bad as giant fighting robots, but I normally do not seek it out. There is something about gore that turns me away, and horror gore is along the lines of the more the gore, the show will flow. But there was a lot of buzz about it, so I thought that I should at least know what's going on so I don't sound like a total clot head.
It tells the story of Takashi Komuro atFujimiHigh School. A bit of a slacker, he is standing on a stairwell landing, looking at the closed gates of the school when some man staggers up to the gates and demands entry. The school administrators try to deal with the man, but he bites the administrator and becomes infected.
This is where it gets weird for me. I mean, the infection spreads through the school in a matter of minutes and we have all kinds of bloodshed and death and unpleasantness. You thought fighting for the last curry bread at lunch was a battle, this is even worse.
A few students manage to escape the attack and flee the school, but they soon discover that the streets are overrun with these creatures. The decision is to try and get home to see how the parents are all doing, but it is a difficult task, made worse by blind panic and dissention within the group. Adding to that is everyone in the group represents a faction. (more…)