November 3rd, 2014 in Anime, General Reviews, Knights of Sidonia by The Droid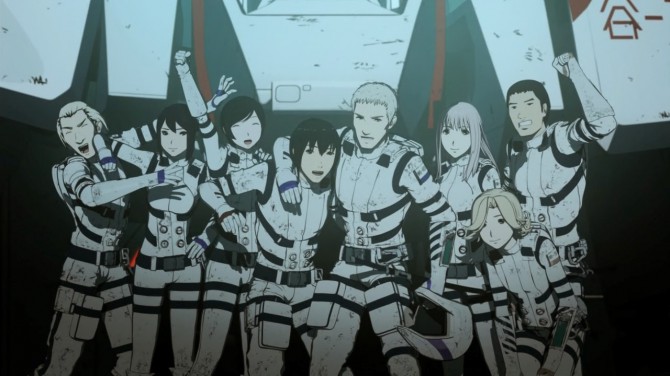 This is a rather odd series for me, on a variety of levels, in that it could be seen as a giant fighting robot show that I like. Yeah, call "60 Minutes" on this.
"Knights of Sidonia" is set in the future. It has been one millennia since the Earth was destroyed by these massive space slugs called The Gauna (and please, do NOT mispronounce it as the Guano, OK? Already been there). Maybe they are more like squid, with their tentacles and such. People fled in these enormous space ships, which look like a derringer barrel shoved though a piece of pumice. Look, when you are in a hurry to leave, niceties like beauty get in the way of things. Well, quite a lot happens in 1000 years, so the population is maintained via cloning. Aside from getting rid of having boring sex, it allows one to tinker with the genetic structure, so a lot of these folks have human photosynthesis (oh, and immortality, but that's not for you to worry about).
Into this mix comes Nagate Tanikaze (smack in the middle), who has lived in the underground layer of Sidonia since birth, raised by his grandfather. Since he is all by himself, for amusement he trains himself in an old Guardian pilot simulator every day, eventually mastering it. His grandfather's death forces him to the surface to steal food and whatnot, but he is eventually caught. He is a genuine throwback and no one knows what to do with him. (more…)