January 18th, 2012 in Anime, General Reviews, Magical Play, Short Run Series by The Droid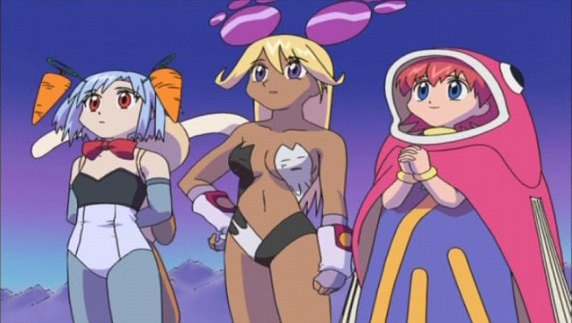 Clocking in at a mere four episodes and an OVA, "Magical Play" is another in a long line of Magic Girl shows (like "Sasami" and "The Familiar of Zero"), but we have dual stories going on (actually, we have several story lines, but they are all kept nicely apart), although, as with much in life, they cross and intersect.
The main story involves Padudu (that's the one wearing the fish. It is not a fish costume, it is a fish, Uokichi, kind of like her familiar). She wants to become a real Magical Girl on Earth (she comes from the land Sea Heaven) and to this end, she needs to gather 20 Flower Stars. These are earned by doing tournament battles with other magical girls. When you get the 20 stars (and have filled up your card), you may then proceed to the next level.
Sadly, when you wear a fish, you are subject to all kind of problems, such as being grabbed by a large hungry eagle who wishes to dine on you, which is how the show opens. Padudu manages to break free, but then plummets to the town below.
In the town, a tournament is being held and Pipin (that is the one on the far left) has just defeated another magical girl. However, before she can claim her prize, Padudu crashes upon her, knocks her out and Padudu gets awarded the Flower Star. Pipin spends the rest of her time trying to wrest the star back from Padudu. (more…)