March 30th, 2014 in Anime, General Reviews, Sekai De Ichiban Tsoyoku Naritai! by The Droid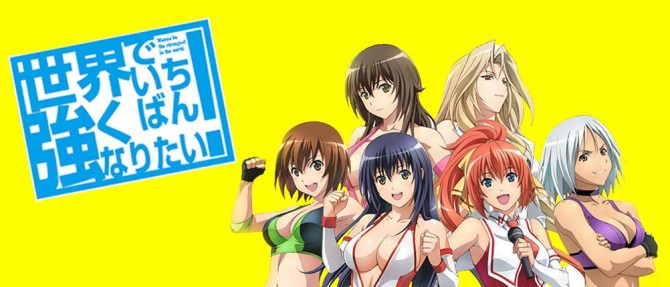 As part of this onslaught of sports animes that I have recently encountered, we now segue over to "Wanna be the Strongest in the World!" ("Sekai De Ichiban Tsoyoku Naritai!") which is as representative of women's pro wrestling as "Hetalia" is of world history. It's not bad, but this is more like WWF (and that's NOT for World Wildlife Fund) than the Olympics.
We start out with the best, the biggest, the most famous, the most beloved J-Pop group to ever grace a stage in Japan, Sweet Diva! Stadiums are sold out, CDs are hotter than flapjacks and every bit of information about them is glommed up by a hungry and caring public. The Center of the group is the dulcet-toned, flowing grace, heavy-bosom, just 17 years old, Sakura Hagiwara (black-haired up there). If she went out for the Diet (the National assembly, not something from Dr. Atkins), she would be elected by a landslide. Or a spacequake.
As part of their duties as pop idols, they do these meet-and-greets. One is with the wrestling team Berserk, an all-female pro team. One of the members of Sweet Diva, Elena Miyazawa (redhead with the mic), who is also Sakura's on-stage rival and best friend, makes an injudicious comment about wrestling and is challenged by Rio Kazama (silver-hair, far right) to a no-holds-barred match. Sakura accepts the challenge in her stead and is soundly defeated by Rio. (more…)