August 21st, 2014 in Anime, General Reviews, She's So "Unusual" by The Droid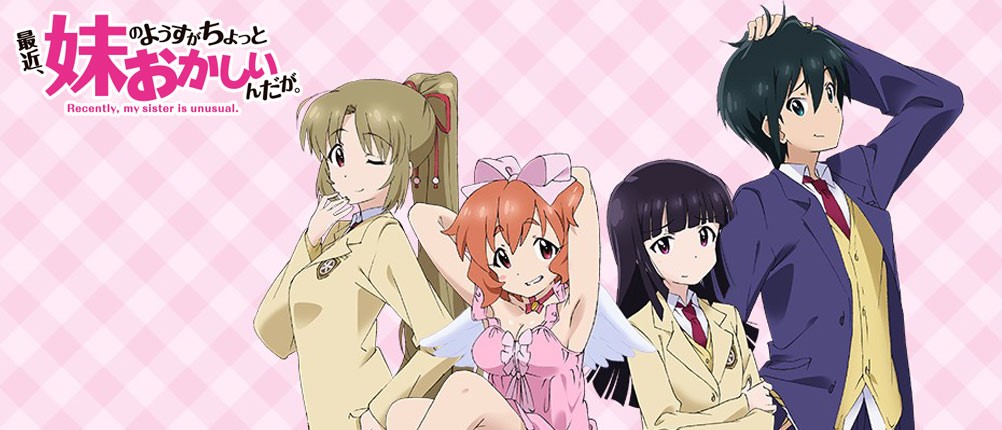 OK, this particular 'romantic comedy' is a real workout, redefining what is meant by 'comedy' and how much perversity you are willing to except.
The initial concept for "Recently, My Sister is Unusual" ("Saikin, Imōto no Yōsu ga Chotto Okashiin Da Ga." "Lately, My Little Sister's Been Acting A Bit Strange, But.") is simple enough.
Yūuya Kanzaki (guy at the end) lives with his father, as Mom has been dead for many a year. Suddenly, Dad meets widow Kyoko and before you can say 'yakisoba', they get married. Kyoko brings to the family her daughter, Mitsuki (short black hair), who is potentially 16 (they both possibly are. They never say an age, but that's a usual age for this stuff) and is upset at the recent turn of events. She is cold, stiff and stand-offish from Yuuya. Well, too much is happening too fast for her.
One day, on their way back from school, as they cross a pedestrian bridge, Mitsuki suddenly faints. When she awakes, she discovers she has been possessed by a ghost, the flirtatious Hiyori Kotobuki (can you find the wings? Good!). Here's the trick: Hiyori was killed near this bridge (and isn't that always nice to have in a romantic comedy) without professing her love for her 'big brother' Yuuya. She has to get to heaven, so she needs to construct these golden steps to get to the gate (no, those wings are as useless as a politician in winter). (more…)