September 30th, 2011 in Anime, General Reviews, The Melancholy of Haruhi Suzumiya by The Droid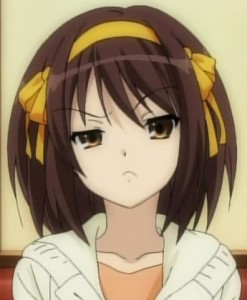 For those of us who saw the first season of "The Melancholy of Haruhi Suzumiya", it was a challenge on many fronts. Pulling a page from the 60s Sci-Fi show, "The Prisoner", it was shown in an order that seemed out of place, as though we were living the life that Haruhi wanted us to live and not getting that straight-forward narrative. It wasn't until it came out on DVD that you could see it in proper episode order and not Kyon Order or Haruhi Order (both of which are non-linear and do not agree with each other on the order).
When you finally were able to see the show 'properly', it made for intriguing watching. I mean, a girl who is a God and does not even know it? Then, in an attempt to keep her focused and channeled and happy, we send along three aliens to keep things moving along so the entire universe is safe? Time jumping, inter-dimensional rifts, girls in bunny suits, how can you keep up with it all?
I certainly found it both an enjoyable and thoughtful series. So, when I heard that Season Two was available on DVD, I did something I rarely do: a blind buy. Without knowing anything about it (and on such a deal as well), I grabbed it. Perhaps I should have waited.
I would divide the show's second season into three distinct units: the first episode, the Endless Eight and the Movie Madness. It is, at best, an experimental season and it has to go back to the drawing board. Much like the ending of every episode of "Excel Saga": "Endless Eight Experiment…Failed!"
The initial episode is fine, setting things up for the SOS Brigade in the time ahead. It is done quite well, but in no way prepares you for the Endless Eight.
What you learn from that arc is that Haruhi is reliving the same two weeks over and over (the last two weeks before the end of summer vacation), looking for something she cannot find. By the time it all ends, it has taken around 600 years to get this taken care of, as it resets and it is, more or less, relived just as it was the last time it was experienced. (more…)