March 22nd, 2015 in Anime, General Reviews, Tokyo Ghoul by The Droid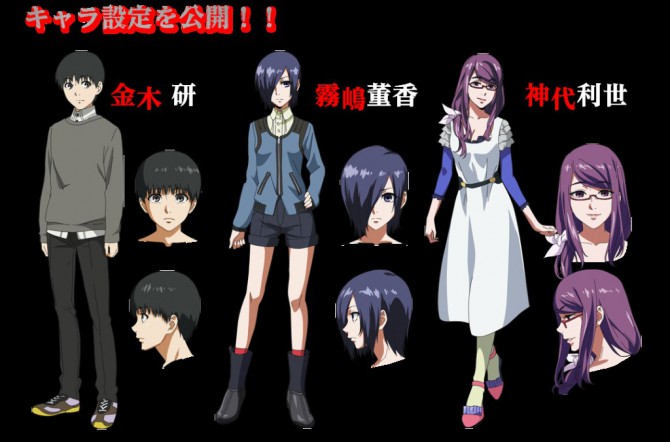 OK, I KNEW this was a horror series, but I was drawn to "Tokyo Ghoul", as you get tired of the vampire – werewolf – zombie nexus and I wanted to try something new, although they do play fast and loose with the mythology (which begs the question: can a myth be factually incorrect?) So, let's set the history of ghouls. A true ghoul eats the corpses of the human dead, thus hanging around graveyards and the like. They might be akin to a politician. However, some ghouls are not beyond helping people become dead, so they can dine. Talk about a moveable feast!
So, we are in Tokyo (which helps for a show named "Tokyo Ghoul"). Let us meet Ken Kaneki, that young male youth up there. Things are going well for him: he's in college, he's found a rockin' place to hang out and he meets this fabulous girl, Rize Kamishiro, that far-right woman. Now, not only is she out of Kaneki's league, it isn't even the same sport, but he is intrigued, as she wants him over for dinner. Yup, she's a ghoul and has her eyes (and teeth) set on Kaneki. As she is busily killing him at a construction site, a hoist of I-beams snaps free from its hook and comes crashing down upon them.
A doctor just happened to be travelling by, comes across these two really messed-up people and thinks "We have the technology. We can rebuild him." Taken to the hospital in critical condition, he transplants from Rize those important organs that weren't crushed under several tons of steel into Kaneki. He lives! The operation was a success. No, it wasn't. After recovering, Kaneki discovers that the operation transformed him into a half-ghoul, and just like them, he must consume human flesh to survive. (more…)