December 16th, 2012 in Accel World, Anime, General Reviews by The Droid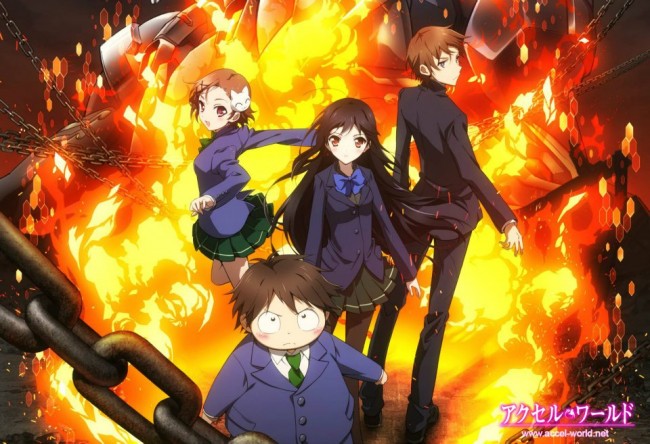 It is the future. (Well, it's always the future, isn't it?)  In the year 2046, Neuro-synchronization, a technology system that allows humans to manipulate their five senses, has become widespread to the point where people can access the Internet and enter virtual worlds through a device known as a Neuro-Linker (you can't see it in the picture, but it looks like a neck collar, but it only spans around the back from jugular to jugular). Haruyuki "Haru" Arita (that short, fat boy, right in the center) has low-self-esteem due to constant bullying. To escape the torment of real life, he logs in to the school's virtual world network where he plays squash alone and always gets the highest score.
One day, he logs on to find his high score has been topped (and by a huge margin). He is then asked to meet the person who did this. It is the Student Council Vice-President "Kuroyukihime" (just behind Haru), who is smart, beautiful, popular and elegant, everything he is not. She offers him access to a very secret program, Brain Burst, which is a virtual reality massive multi-player online game. You have a character that you make better by winning one-on-one battles. This Brain Burst program slows time (although it appears frozen in the real world) to play this game and to potentially manipulate your real time surroundings.
Brain Burst also carries with it a painful price to pay: lose all your points and not only do you lose the Brain Burst program, you lose all memory of it plus you can never install it again. Kuroyukihime wants Haru's help as she wishes to reach the highest achievable level, which is level 10, and meet the creator of Brain Burst in order to learn its true purpose, but in order to do that, she must defeat the other level 9 users who are known as "The Six Kings of Pure Color," the leaders of the six most powerful factions in the Brain Burst world. Haru agrees to help Kuroyukihime to repay her as well as overcome his own weaknesses. (more…)