June 30th, 2014 in Anime, General Reviews, Gingitsune by The Droid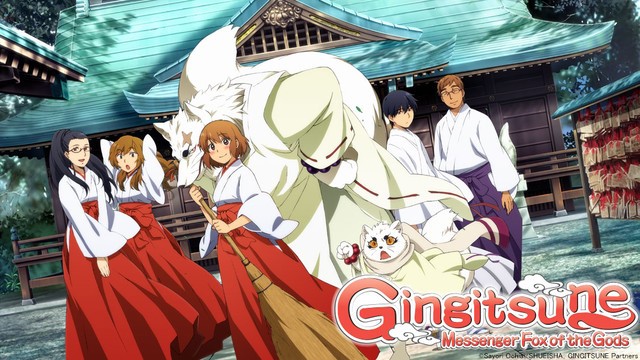 What is it like to be a real temple maiden? What it is like to really be able to see the holy messengers? What is it like to be different? What is it like to not open a review with a series of questions?
"Gingitsune" tells the tale of Makoto Saeki (the one with the broom). She is a temple maiden and can see these heralds from the gods on high. Dad Tatsuo (carefree schlub at the far right) does not have this ability, so he has to rely on Saeki to help him out. There used to be two heralds at the temple (and there seems to be a rule that there are to be two), but Gingitsume (or 'Gin', as he is known, that really, REALLY big fox herald) is all there is. His partner left (or died or was recalled or went sightseeing) and he spends his days sleeping and eating tangerines.
He is a grumpy number, but if you had been around for 800 years or something like that, you'd be cranky as well. And I can't imagine how his underwear rides up on him. That would make me very cross, especially if it was that way through the whole Meiji restoration! (more…)