August 3rd, 2014 in Anime, General Reviews, Non Non Biyori by The Droid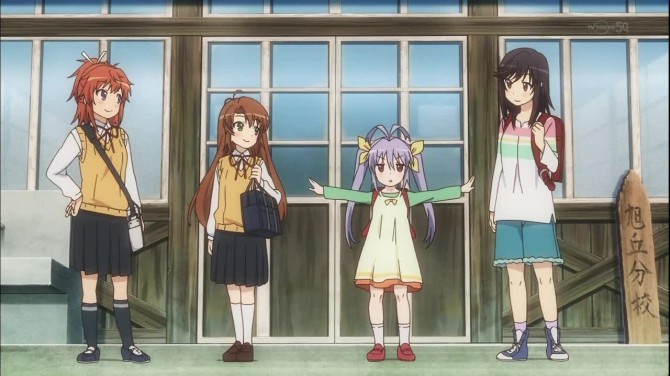 This is certainly a stunning example of a 'nothing' show. OK, things do happen, but they are not of great or grand designs, as least not in our lives. But such is "Non Non Biyori". The title is a bit confusing, as it means "Non non weather", but then that means we are mixing language ('non' is French for either 'no' or 'not', so I read this as Not not weather? Should there be a hyphen? But I digress).
Greetings and welcome to the countryside village of Asahigaoka. Being where it is, like, not even on the map, many conveniences are several miles away and the school consists of only five students, each of whom come from different grades of elementary and middle school.
Hotaru Ichijo, a fifth year elementary student from Tokyo (the tall number on the far right), transfers into the Asahigaoka Branch School and adjusts to countryside life with her new friends. Taking role call: (more…)