December 7th, 2011 in Anime, Featured, General Reviews, Rainbow by The Droid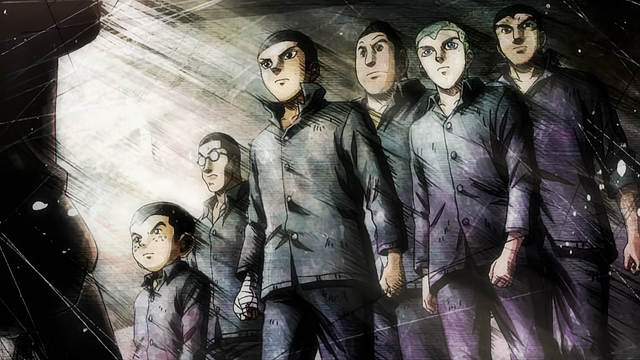 Make no mistake about this one: Judy Garland is NOT on the other side. This is a brutal, rough, vicious show that takes no prisoners. It is also rather rare in that it examines the Post-WWII life ofJapanand how the war really changed both people and society.
It starts out in July, 1956 and six boys are being transferred to the Shōnan Special Reform School. They are hooded and chained together and are treated like scum and villainy, especially when they have to board a public bus to get to the school. The brutality starts almost immediately when one boy is beaten for trying to return a doll to a little girl who dropped it and no one does anything about the punishment meted out to him.
Once in their cell, after a most humiliating jail processing procedure, they have to confront Sakuragi Rokurouta, who challenges them all to a fight to see who will be the top dog in this little group. Our six other prisoners are:
Minakami Mario, 17, attempted homicide.
Maeda Noboru, 16, serial theft (dine-and-dash crimes.)
Nomoto Ryuuji, 17, fraud scams. (more…)