December 15, 2013 in Anime, General Reviews, Movies by The Droid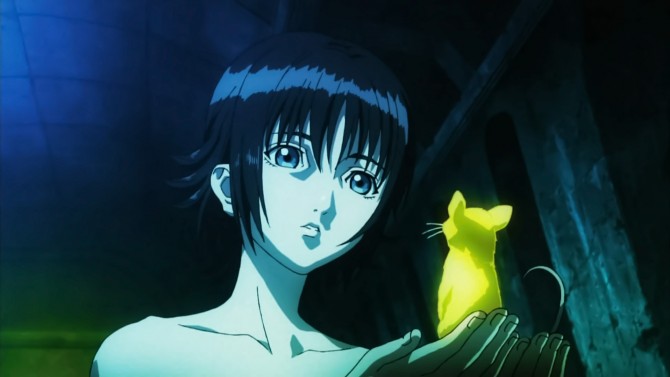 When is a movie not a movie? When is a series not a series? Why can't you ever get a good answer to questions? Did you remember to turn off the iron?
I bring this up, as I am uncertain how to approach "Mardock Scramble". If it is a movie, why isn't it presented as such? At three hours, it is a bit long for a movie (especially an anime one), but it could have easily been broken up to be a first season of a show (a 12-episode run). I am going to call this a 'special', as it works best in that configuration. So, let's get to the story, eh?
It could be the future, but it is certainly an alternate universe of Tokyo….I mean, Kamina City, Rune Balot is a 15-year old prostitute, who goes on a 'date' with the notorious Shell Septinous. Shell has a bit of a problem, in that he is a psychotic killer. He has sex with these underage ladies, and then murders them. Rune is no exception, as she is left to die in a burning car which explodes. However, she is rescued and transformed into a cyborg by the rather mysterious Dr. Easter. An Artificial Intelligence life form Read the rest of this entry →