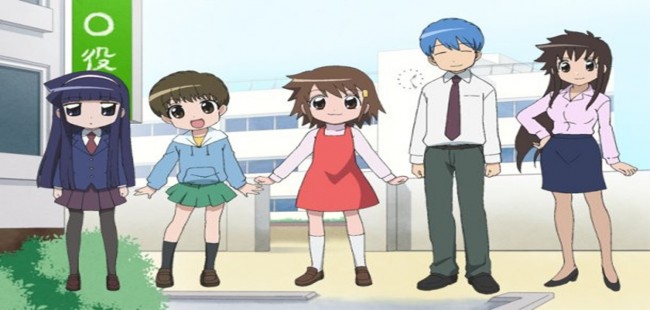 You have read my comments on short-run shows (series that have 11 or less episodes), but I am running into short pull episodes. Now, "Hetalia" is the King of this, with over 100 episodes, but not one of them gets to the six-minute mark.
As of late, I have seen a huge uptick in the amount of short-pull shows.
One is "Chitose Get You" (pictured above).  Chitose Sakuraba is the elementary school gal in the middle who has a terrible crush on Hiroshi Kashiwabara, who gets a bit paranoid about her coming around and hanging about. However, thwarting her plans is the evil, evil, evil homeroom teacher Asako Fuji, who ALSO has a crush on Hiroshi. Which of these two will marry him first? Rounding out this troupe is Misaki (the cheerful one to the left) and Hinako Hiiragi (far left; don't let her poise fool you; she is one weird bird).
The episodes are usually one event or tale and they don't last more than four minutes a pop.
Other short pull shows out there include:
"Gokicha! – Cockroach Girls". An anthropomorphized cockroach girl who wishes to become friends with humans, but is often treated with the appropriate response. This one ran about 10 minutes and with another girl in the offing (Chaba), more is to be expected.
"Wooser No Sono Higurashi" ("Wooser's Hand-To-Mouth Life"). Wooser is a yellow blob. Is he a rabbit? Not certain. He lives with twin sisters Rin and Ren, but don't let that cutesy animation fool you. He is one mean character, and there is a caliber of cruelty akin to "Happy Tree Friends and Friends", but without the pointless violence. Even with all that, the stories are really lacking. Again, nothing over four minutes. (more…)