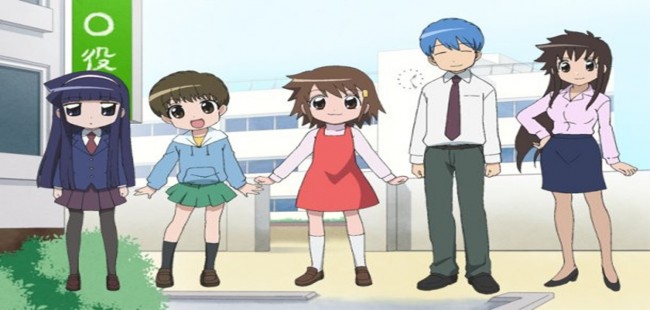 You have read my comments on short-run shows (series that have 11 or less episodes), but I am running into short pull episodes. Now, "Hetalia" is the King of this, with over 100 episodes, but not one of them gets to the six-minute mark.
As of late, I have seen a huge uptick in the amount of short-pull shows.
One is "Chitose Get You" (pictured above).  Chitose Sakuraba is the elementary school gal in the middle who has a terrible crush on Hiroshi Kashiwabara, who gets a bit paranoid about her coming around and hanging about. However, thwarting her plans is the evil, evil, evil homeroom teacher Asako Fuji, who ALSO has a crush on Hiroshi. Which of these two will marry him first? Rounding out this troupe is Misaki (the cheerful one to the left) and Hinako Hiiragi (far left; don't let her poise fool you; she is one weird bird).
The episodes are usually one event or tale and they don't last more than four minutes a pop.
Other short pull shows out there include:
"Gokicha! – Cockroach Girls". An anthropomorphized cockroach girl who wishes to become friends with humans, but is often treated with the appropriate response. This one ran about 10 minutes and with another girl in the offing (Chaba), more is to be expected.
"Wooser No Sono Higurashi" ("Wooser's Hand-To-Mouth Life"). Wooser is a yellow blob. Is he a rabbit? Not certain. He lives with twin sisters Rin and Ren, but don't let that cutesy animation fool you. He is one mean character, and there is a caliber of cruelty akin to "Happy Tree Friends and Friends", but without the pointless violence. Even with all that, the stories are really lacking. Again, nothing over four minutes.
Maji de Otaku na English! Ribbon-chan: Eigo de Tatakau Mahou" ("Real Otaku English! Ribbon-chan. A Magical Girl Who Fights in English"). This is both pointless and ridiculous. Amid the basics of magical fighting ribbon girls, it purports to teach English, but this is not even close to 'conversational English', and the translation is so bogus to be of no real help to anyone, even at an anime convention. Nothing over four minutes, you have to watch it for the head-scratching caliber of it all.
"Recorder To Randsell". The story revolves around Miyagawa Atsushi and his sister Miyagawa Atsumi. Atsushi looks like an adult at almost six foot tall, but he is actually an elementary school boy. Atsumi looks like a little girl at 4-foot-6 tall, but she is actually in high school. There are all sorts of humorous complications because of this size and age difference. Nothing over three minutes.
"Shiba Inuko-san". Shibainuko-san is a 14-year-old girl who looks exactly like a Shiba Inu dog. One of her classmates, Ishibashi Chako, wonders about her appearance, but no one else thinks it is strange. This one hardly gets to the two-minute barrier, barely enough time for a set-up and gag.
I am sure there are more out there, but the trick is finding them. Something like this is a scheduling nightmare, as there is no real way to put this into the line-up and build a fan base for it. I know "Magical Play" started this way but you had to wait for the disc release to get them cobbled together into some kind of solid format.
As far as quality goes, it is all over the boards, as two to four minutes may not be adequate to do much more than random weirdness. I do like Chitose, as they handle it well, but the rest of the shows are just too brief for my tastes to sustain interest, even for 90 seconds. At the very least, take a look and decide for yourself.
And remember, it's first run until you've seen it. Provided you have that opportunity.