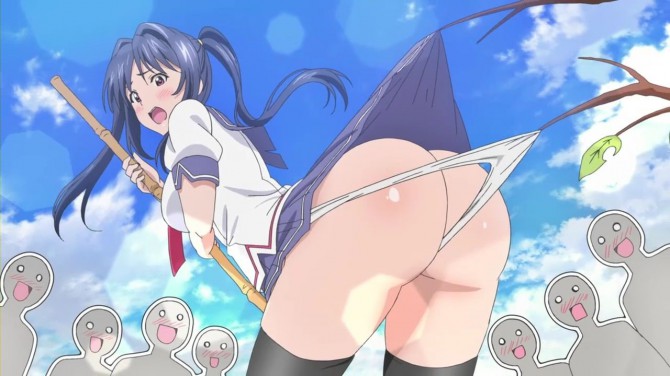 It seems to be some kind of unwritten law that if you have a fan-service heavy romantic comedy, you need to follow it up with a fan-service heavy OVA.
When "Maken-Ki" completed its first season, they had these rather silly 'exercise' videos as their OVA, which were nothing more than a thin excuse to look up skirts, down blouses and notice cleavage.
The second season of "Maken-Ki" abandoned everything from the first season to let us drool over the very athletic and toned ladies. The OVA discards anything like 'plot' and 'story' and 'character development' to let us now gaze upon their toplessness.
Yes, dude, I am talking NO errant clouds of steam, NO bizarre shafts of light. NO black bars of despair. You get to see their mighty mounds as if you are nose to nose with them. One shot of them looked like a view of the Grant Teton (that's a French term; go look it up and see what I mean). And it's RIGHT THERE! And the ladies don't seem to mind at all, as they coo and purr and make other odd sounds. (more…)