January 17th, 2016 in Anime, Appleseed XIII, General Reviews, Uncategorized by The Droid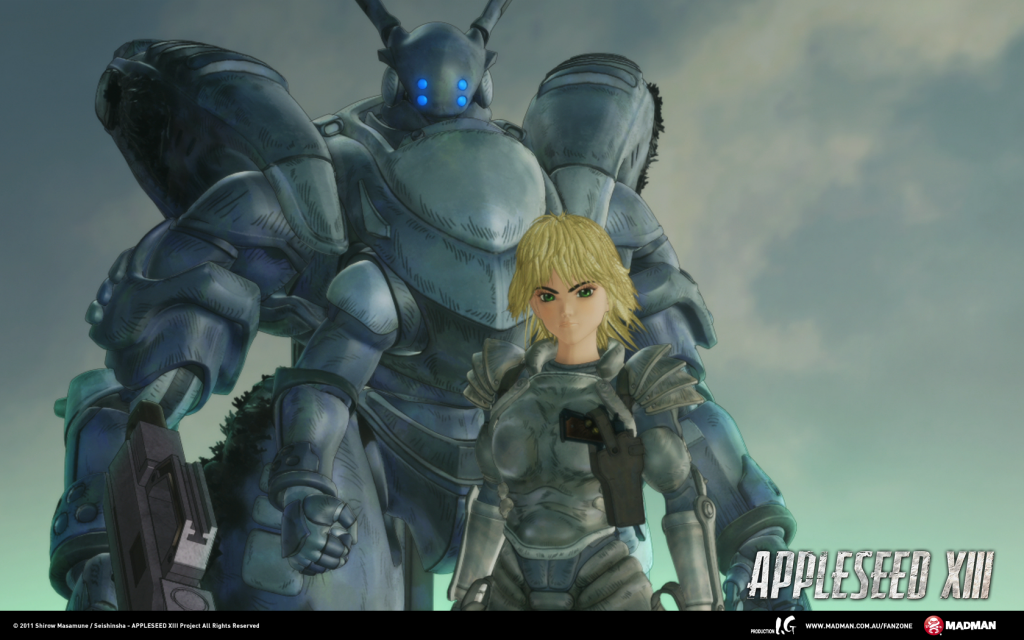 Yes, I know this was a movie, but, for me, like "Ghost in the Shell", the series made more sense than the film, although that's where the similarities with "Appleseed XIII" end.
It is the future (and with what I see, it had pretty well damn be). It is also after the close of WWV (No, not some Super Bowl; World War Five). On the plus side, it was fought with non-nuclear weaponry. On the negative side, about half the world's population died. Well, at least I can get a parking space. We have also seen the rise of the city-state of Olympus, a gleaming spire offering a way out of the chaos and destruction of the past and into a grand and glorious future. Or not.
It is governed by Gaia, an artificial intelligence, and administered by bioroids, genetically engineered humans. Isn't that eugenics? Just askin'!
Into this mix we have the battle duo of Deunan Knute, a young female special agent, and Briareos, a veteran cyborg soldier. They are partners and, when Briareos was human, perhaps lovers, (this is hinted at but never really defined). They work in E.S.W.A.T., the elite Special Forces serving Olympus. They are deployed wherever trouble strikes. Conspiracies, terrorism, deadly military weapons technology, greedy corporations, and power-hungry politicians, whenever it rises its ugly head, they are there to strike a blow for the future as they fight to protect Olympus and conduct their personal quest to find Eden in the wasteland. (Enter patriotic music beneath). (more…)