December 8, 2013 in Anime, General Reviews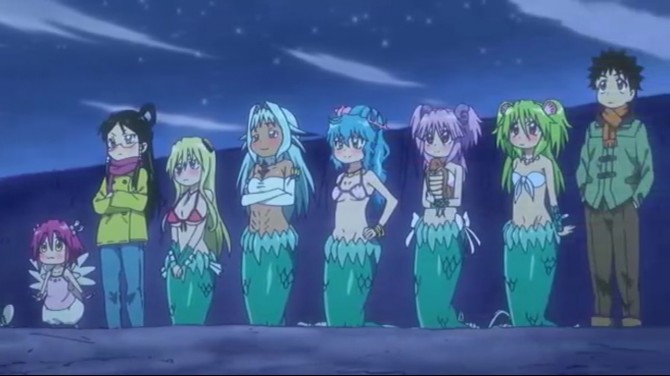 OK, aside from a weakness for romantic comedies, I have another one for mermaids. This series is certainly going all out for it, as I cover both genres. Calloo Callay!
"Namiuchigiwa No Muromi-san" (Muromi-san on the Shore") begins with our male hero, Takurō Mukōjima, who sits on a jetty all day and fishes. One day, he lands a ningyo (a Japanese mermaid, which helps, as they ARE in Japan), Muromi (to his immediate right) and has a chat with her and her strange friends. Now, this show also goes by the title "Muromi-San and the Legendary Beasts", and Takuro (or Takkun, as Muromi calls him) gets an excellent chance to meet the lot of them. Whether he wanted to or not. Maybe you should find another place to fish.
The rest of the cast, this time going right to left, are: Read the rest of this entry →