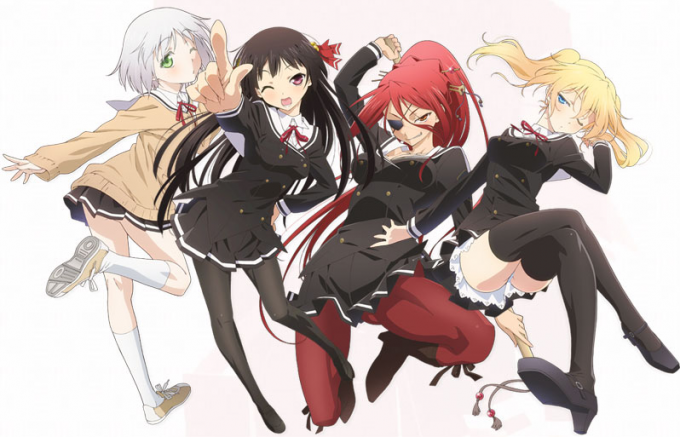 This is another of those series that has a monstropatious title, but gets reduced to something more manageable. Some know it as "Onii-chan dakedo Ai sae Areba Kankeinai yo ne!" (which comes out to "As Long as There's Love, It Doesn't Matter If He is My Brother, Right!"), or "Oniai" for short. This is another brother-sister anime, but with more screwball situations. Our femme fatales are:
Ginbe Haruomi Sawatari
Akiko Himenokoji (the sister half of the brother-sister team)
Arashi Nikaido
Anastasia Nasuhara
The brother in question, Akito Himenokoji, isn't shown and he really is used more as a foil for the misplaced desires of the ladies than anything else.
The story tells of how Akito and Akiko were separated for six years and have come back together, with both attending Saint Liliana High School. Suddenly the student council (which consists of all five of them) moves into this rather grand house and they all have to live together. It seems each and every lady has a fixation upon Akito and, adding to the mayhem, are Alisa Takanomiya, who was Akito's adoptive family at to whom he is her fiancée (much to the shock and chagrin of everyone) plus Kaoruko Jinno, who is an editor at the publishing house where Akito has his book published. (more…)