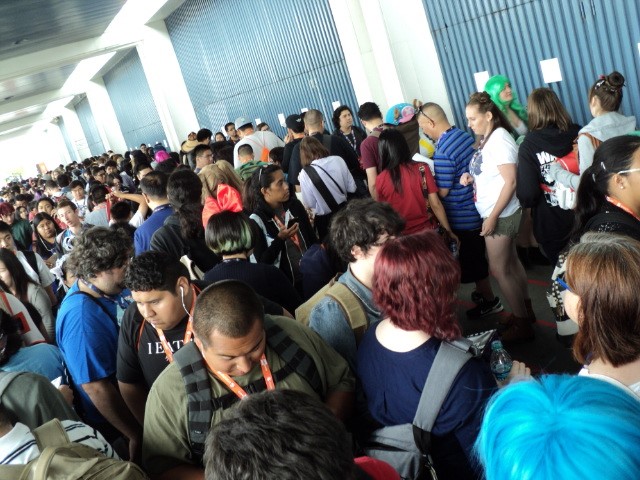 A lot of the problems with yesterday's crowds were exactly what I thought it was: since a lot of folks could only invest one day to the convention, that was the day. It was just a bummer it was also Day 1. Day 2 was a lot better for the venue, but not for the soul. I ran into something that I call 'aggressive disinterest'. It began with my bus driver.
I found out that the drop-off location was changed from the slotted area in front to a new spot on Pico, between the buildings. When one of the riders complained about it, the driver was angry about the situation, but the person was just in the way, as if the diatribe was just another function of the job and he could have been easily yelling at a tree. Ditto for the security guards about the area. Something was going on and sidewalks were fenced off or stairwells were blocked. They have a job to do, that is that, but if you need some degree of yelling and screaming to make it more personal, here you go.
This indifference made me late for my venue, as I had to take the long way around, and the escalators were down, so a lot of stair-climbing was there for me. I was headed to a viewing of the Magical Girl Show "Hyperdimention Neptunia". I may have to see it later, but it is another estrogen-heavy show with a ton of perversion. With that done, I began my sojourn of getting shut out of venues. I heard that they sold out the Expo and they had 100,000 people. I was not even certain if they were one-day pass selling any more, but the lines into the place were really short. I caught a viewing of "Welcome to the Ballroom". This looks like a great series, despite some trope flaws. I will give a full review of it later, but a young man is going nowhere with his life and decides to envelope himself in the world of ballroom dancing competition. That is the line for it up there, nearly 400 people.
Caught the Crunchroll Panel after that, but it seems they are more geared to letting you know as to what shows are now available for purchase than letting me know what they are coming out with. With some down time, I went to the Press and Industry area, where the guard there told people, "Unless you have business here, don't hang out here." Well, I have business here and I got to speak with Annie, very overworked manager of the P&I Area. I told her my sad saga and she gave me an email address (which I think I previously responded to, but got no reply from them) to ask them why I fell short. This pit stop gave me enough time to get to a world premiere of another odd series, "Violet Evergarden", which appears to be a tale of a female soldier who survived the war. Or perhaps, 'survived' is closer to the truth, and has to build a new life for herself. I bailed out for the Q&A portion of it, only to get cut out of the FLCL 2 & 3 Panel. Yes, they are coming out with Seasons 2 and 3 for "Fooly Cooly."
I missed a showing of the movie "In This Corner of the World" to take advantage of something I had not seen at anime conventions: dance lessons. When I saw "Ballroom", Pony Canyon said that at their booth (#800), they would have dance professionals there to give light lessons. When I told the wife I wanted to do this, she nearly dropped a Wall Maria. I NEVER do this kind of crap. After a wretched meal (the food at the venue is over-priced and not that swell), we hit them up and were on the dance floor for the full hour they were giving lessons. You see, anime conventions are more than body pillows and cheesy t-shirts. It is sometimes a marvelous opportunity to do something else.
After getting shut out of "BraveStorm", I went to the JW to tough it out for the FUNimation Peep Show, an 18+ showing. I was in line 80 minutes and it took another 30 minutes to start the show. I also had an encounter with a Premium Fan badge holder, and it was exactly what I thought it would be. I will have to say they may not be all this bad, but he was a Class-A Jerk: arrogant, conceited and pushy. The show itself was a bust because of circumstances. They had us compress the rows to get more people in (a black seat here and there) and I was in Fatty Land. That's why I had blank seats! I had three obese people to my right and two to my left, so I had almost no seat for myself and honestly could not move. And the clod next to me almost elbowed me a few times with his hooting and shrieking.
The show was a disappointment, as they showed all the salacious parts of "Cat Planet Cuties", "Maken-Ki Two", "High School DxD BorN", "Yuri!!! on Ice", "Shimoneta", "Hyperdimention Neptunia" and other prurient offerings from the company. It wasn't smutty enough to be fun and not sexy enough to be hilarious. We must have seen close to 20 excerpts. I guess I was tired, but the crowd was really getting into it, especially with their perverted tweets for prizes. I did join in the BooFest when the "Seven Mortal Sins" clip had censored bits. Dude, I've been seeing nipples and crotches and other salaciousness and now, you do this? Boooooooooooooooooooooooo!
When it was all said and done, I ended up walking to the hotel, as by the time I would get to the new drop off point, I'd already be halfway to the Westin. I had to keep reminding myself it was Sunday and there weren't any places open late for a quick bite except a really dicey 7-Eleven. I ended the day with the clerk giving me a lecture about the proper use of a chipped credit card, but, again, he was angry at the situation and not really mad at me. And I still haven't really gotten to the vendor's room. Maybe tomorrow. Grrrrrrrrrrrrrrrrrrrrrrrrrrrrrrr!