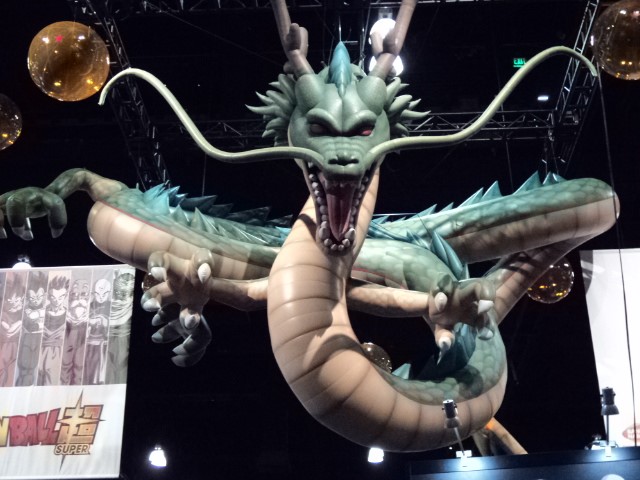 We have come to the final day and the schedule looks like it….if I can trust it. There are a ton of viewings of animes that seemed to be plopped out. They found a hole in the schedule and you should be grateful. There were some final panels, but since this is also a get-away day AND the Fourth of July, my mind is focused elsewhere. Besides, I don't know how to handle "Boruto". I know, you are thinking, 'Could it be?" Yes. We are continuing the Naruto Saga, seeing things through the eyes of his son, Boruto. They have taken an interesting tack with it, but I still recall getting torched by 'Naruto' with tons of filler episodes, so there is reluctance on my part.
We were able to do an orderly egress from our domicile (I think we may have gotten up a wee earlier than the rest of the folks; there were some late showings of movies the night before) and moved things closer to the LACC for a shot at the Vendor's Hall. The few people in the check-out line with me were doing the same maneuver, as there was a lot to do and a massive amount of walking from one spot to another, so the Vendor's Hall was not given its due.
I had been in the hall a couple of time, but more to pick up the dance lessons at Pony Canyon, so I never got a real look at things. One trend I noticed was waiting in line. I mean more than just waiting in line to get into things but actual crowd control to get into certain booths.
Some of them made sense: FAKKU! and Project H had lines, but they were smaller booths and they had all the steaming hentai you may want to drool over, so we have to protect the children. I guess, but there is something odd about looking through mangas with tons of salaciousness with other people who are looking through mangas with tons of salaciousness. It's that all the major booths, like for Crunchyroll and Pony Canyon (except if you were in for the dance lessons) and Sentai Filmworks and Aniplex all had slow lines in. I never recall it to such an extent that they turned folks away, as it was another line cap. "Please come back in a half-hour."
As I checked out the other vendors, the Hot Item was mystery boxes. This is more than the mystery grab bag of manga or t-shirts or figures. This is a genuine themed mystery box. It might be Pokemon, it might be Nintendo, it might be video games. You plunk down $40 for at least $50 and up to $100 of merchandise inside. The daughter did this for Pokemon and got (among other things) a pair of hot and cold tumblers with Pokemon on them (Charizard was the design on the hot tumbler) and a Pokeball cap. She did give me the Pokeball Stress ball. I guess I really needed it.
They also had the crate people. Yes, LootCrate was there with a build-a-box offering, but there were also others with more mystery boxes, like akibento, and one allowed you to make a box of various Japanese candies and treats. But as I walked about, with a stop at a pin dealer selling Disney pins, I noticed something: there were no anime vendors!
Aside from the Big Boys, I saw no local dealer with anime and only limited manga out there. And the few who were selling anime were outrageous pricing them. Pony Canyon was selling a special disc release of the first season of "Sound! Euphonium". Yes, it was a magnificent presentation of a limited edition offer.
Exclusive Mega Tall size "Dodeka" disc case, double-sided cover, illustrated by character designer Shoko Ikeda, deluxe booklet, two illustration cards and the exclusive PonyCan.US plastic slipcase, plus you get it on both Blu-ray and DVD. But you get no more than five episodes a case. If you wanted all three parts of it, that would set you back $225.
RightStuf! was having equally immense prices. If $191 is 'on sale', what is the 'regular' price? Needless to say, I did not score on any anime. And the mangas were from specific companies making an appearance, not the owner of "Manga! Manga! Manga!", vending his wares. All in all, it was rather unsettling and it felt like AX was trying to cram more vendors in there than normal. Very few oversized areas (like for Copic Pens). I am sure that was merely an observational illusion and not anything based in reality, but even for a last day, it seemed crowded. When we had our fill of things, we staggered back to the car, flung it all of our swag and hit the road for the long drive home, which gave me time to think. Highway Five allows that.
Ruminations and final overview to come.