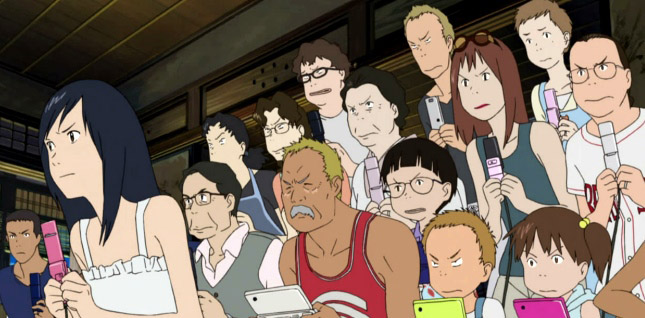 Okay, so to start off here is my disclaimer. I'm not exactly the best out there at neither rating shows nor have I seen every anime movie out there (reason why I called it Façades to 10 anime list and not just 'The Top 10…."). What I have here is my personal list, if you disagree, leave a comment also if there's a great movie that isn't there please give your recommendation, I possibly just haven't seen it and hey I'm always interested in looking at new shows J. Another note, this list consists of Anime Movies and not OVA's so more than likely, if there is a corresponding series for a movie, it will not be considered. Okay enough stalling, here we go!
10. Ninja Scroll
Released on June 5th 1933 and directed by Yoshiaki Kawajiri, Ninja scroll is a Japanese animated  action film. The plot revolves around Jubei Kibigami, a vagabond ninja who becomes the enemy of the 8 demons of Kimon by rescuing Kagero, the official food taster and ninja for the Koga clan from being raped. Over the course of the movie the two try to stop Gemma, the leader of the 8 Demons of Kimon who having the ability to reincarnate himself plans to overthrow the government and eventually take over the entire country.
Plot : 7
Music : 7
Pacing : 8
Animation : 8
Conclusion : 8
Overall : 7.6
9. Akira
Released on July 16th 1988 and directed by Katsuhiro Otomo, Akira is an animated cyberpunk science fiction film depicting a Futuristic Neo-Tokyo. It revolves around a biker gang member Tetuso Shima and his leader Shotaro Kaneda. Tetsuo acquires physic powers after an incident with an Esper and throughout the movie Shotaro tries to prevent him from releasing the supposed dangerous psychic Akira.
Plot : 10
Music : 7
Pacing : 8
Animation : 6
Conclusion : 8.5
Overall : 7.8
8. Grave of the Fireflies
Released on April 16th 1988 and directed by Isao Takahata, Grave of the Fireflies is considered one of the most powerfull war movies ever made. Set towards the end of World war II it revolves around the relationship between two siblings, 14 year old Seita and his young 4 year old sister Setsuko. After losing their parents in the war the movie goes on to show how they move from a well off family to being in rags and dying of starvation. Easily one of the most profound and heart wrenching films to be produced.
Plot : 10
Music : 8
Pacing : 8
Animation : 8
Conclusion : 9
Overall : 8
7. Sword of the Stranger
Released on September 29th and directed by Masahiro Ando, Sword of the Stranger is a Samurai Anime which takes place in the Ming Dynasty and revolves around Kotaro, a young boy who is hunted by the King  due to the legend that every 100 years a boy will be born whose blood has the ability to turn the drinker immortal. This boy meets up with Nanashi, once an exceptional swordsman but now a nameless ronin who pledged to never draw his sword again. This man agrees to escort Kotaro to the temple and finds himself acting as a bodyguard for the boy.
Plot : 8
Music : 8
Pacing : 8
Animation : 9
Conclusion : 10
Overall : 8
6. Voices of a Distant Star
Released on February 2nd 2002 and directed by Makoro Shinkai, Voices of a Distant Star is a futuristic romance which outlines the long-distance relationship between two friends who communicate by sending emails via their phones across interstellar space. The genius Mikako Nagamine is recruited to the UN space army to fight aliens which draws her deeper and deeper into space which in turn causes the emails to take increasingly longer to reach her friend Nonoru on earth until the span eventually spans over years.
Plot : 9
Music : 8
Pacing : 8
Animation : 9
Conclusion : 9
Overall : 8.2
5. Summer Wars
Released on August 1st 2008 and directed by Momoru Hosoda, Summer wars is a science fiction romance film revolving around Kenji Koiso, an eleventh grader who is taken bu Natsuki Shinohara, a twelth grader to celebrate her great-grandmother's 90th birthday. After being wrongly accused of being involved in the hacking of a virtual, he strives to repair the damage done and stop the real culprit from causing any further damage.
Plot : 9
Music : 9
Pacing : 10
Animation : 8
Conclusion : 9
Overall : 8.3
4. The Girl who leapt Through Time
Released on July 15th 2006 and directed by Momoru Hososa, The girl who leapt through time is a romantic science fiction film about Makoto, a teenager who acquires a mysterious power to travel through time, she then begins using her power to frivolously fix problems and prevent undesirable situations from happening such as a love confession from her best friend. Throughout the movie she learns that ever change comes with its own set of consequences and Upon discovering she only has a set quantity of leaps remaining she tries to fix things for everyone.
Plot : 9
Music : 8
Pacing : 9
Animation : 9
Conclusion : 9
Overall : 8.6
3. 5 Centimeters per Second
Released on March 3rd 2007 directed by Maoto Shinkai, Hailed as the best non-Miyazaki anime  "5 centimeters per second: a chain of short stories about their distance" is a 3 part continuous romance following a boy named Takaki Tono. Set from the beginning of the 1990's to present, it depicts the life of Takaki in relation to his current as well as potential love interests. Each part can be seen as a segment of Takaki's life the first being when he enters elementary school, the second where he is in the third year of senior high and the last where he is a computer programmer in Tokyo.
Plot : 10
Music : 9
Pacing : 10
Animation : 10
Conclusion : 9
Overall : 9
2. Princess Mononoke
Released on July 12th 1997 and directed by the prominent animation director Hayato Miyazaki, Princess Mononoke is a dramatic action movie taking place in the Muromachi Period in Japan. The story revolves on the involvement of outsiders in the struggle between the supernatural guardians of the forest and the humans who consume the resources. The protagonist Ashitaka, after being cursed by a demon acquires superhuman strength but eventually will be taken over and killed. He travels to search for a cure and arrives to the iron town where he meets San, a human girl adopted by wolves whom the villagers call Princess Mononoke. Somewhat together Ashitaka and San try to save the forest and its spirits from the humans who plan on killing the forest spirit by cutting off its head.
Plot : 10
Music : 9
Pacing : 10
Animation : 10
Conclusion : 10
Overall : 9.8
1. Howl's Moving Castle
Released on November 20th 2007 and directed by Hayao Miyazaki, Howl's Moving Castle noted as one of the most successful Japanese movies of all time, centers around Sophie, an 18 year old hat maker who was turned into a 9 year old lady due to a witches curse. She then ventures out searching for a cure where she ends up into Howls castle, a powerful wizard infamous for supposedly eating the hearts of beautiful young women. Throughout the course of the movie besides trying to rid Sophie of her curse, Howl tries to prevent unnecessary destruction by using his magic to interfere in the ongoing war.
Plot : 10
Music : 10
Pacing : 10
Animation : 10
Conclusion : 10
Overall : 10