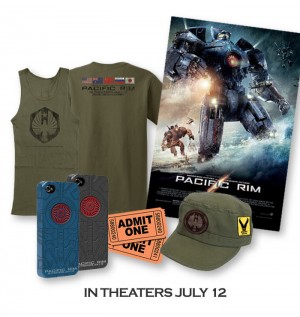 Due to the Anime Expo 2013, the anime world has been abuzz with excitement. One question that's been on everyone's lips is "Will Pacific Rim be a hit?" Most arguments in the negative, claim that Hollywood doesn't know how to do a good 'Mecha' show. While it's true that the giant fighting robot concept was initially Japanese, Hollywood has been known to put its own spin on things and improve upon them. Yea we have some flops every now and again but hey, no one's perfect. Personally, I think that there is ALOT of potential in a high budget mecha movie and am anxiously looking forward to its release.
With that said, I was given the opportunity to award a prize (see image above) to one lucky winner. To participate, all you have to do is leave a comment saying what you think about the upcoming Pacific Rim movie. On Friday afternoon at 12 (12.07.2013), one of you will be selected with random.org's 'True Random Number Generator' and contacted via the email used to post your comment.
(Note. if no reply is received by midnight then another winner will be chosen)
Good luck!!