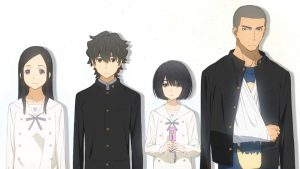 I always have a problem with anime movies, in that I am aware of the merest tip of the iceberg that comes to a regular cinema on its own (although I am having troubles with "The Red Turtle" and that's a Studio Ghibli offering). A tremendous amount of them just go drifting past, so it is a bit or a workout to be able to find them without having to go to some special showing in a theater no one can find at exorbitant costs to view it and you have but one weekend to grab any of the four total showings. And the next nearest theater for it is 600 miles away. That is why when I run into an anime movie, I grab it and take my chances.
Such is the case with "Kokoro ga Sakebitagatterunda" ("The Anthem of the Heart", subtitled "Beautiful Word Beautiful World"). At its heart, it is a love story, but how we get there is a tad unusual.
Jun Naruse (the lady with the pink ticket) was known to be a chatterbox, always saying whatever she likes. One day, she sees her father come out from a love hotel with another woman and tells her mother about this, resulting in her parents' divorce. Her father blames her, saddening Jun. While crying, a fairy egg appears and seals her words so she won't hurt people again. The thing is, she's like eight or so when this happened, so this turns out to be a really big deal. We are now in high school. As the result of this curse, Jun is unable to speak or convey her words aloud. Her homeroom teacher signs her up to Charity Committee members along with three other people (left to right) Natsuki Nitō, Takumi Sakagami and Daiki Tasaki. Daiki adamantly refuses, leading Jun to finally voice her objection after a long time. However, this causes her to have a stomachache.
Yeah, as is the case in situations like this, there is a lot of friction between everyone. Daiki, on the baseball team, is unable to perform (note arm in sling. His ass will soon be in one as well) and is filled with rage, as he lashes out at everyone, especially Jun, owing to her inability to speak. However, when Jun hears Takumi sing, she convinces him to turn her words into song, as singing might be able to bypass the situation. The rest of the movie occupies itself with helping people overcome their problems to be able to move ahead in the word towards the life they are meant to live.
Yeah, it's a bit of a soap opera, and when you learn that Natsuki and Takumi have a relationship and that Takumi wants to be with Jun and Jun is confused by the whole thing, we end up getting confused by the whole thing, but that's the problem when you have a love rhombus. It's not a bad story, but I felt the emotionality portion of it was a bit out of sync. It is always difficult to be able to express why people feel the way they do and you never choose the right words, but I never really felt that everyone was on board with this.
Yeah, sure, OK, things get sort of settled by the end of the film (in the great tradition of Hallmark movies), but I just was never able to make all the connections work. Although a pleasant enough film, this is one that can come looking for you and not the other way around. The movie did raise a question for me that I cannot seem to get an answer to: why are there so many abandoned buildings in and around Tokyo? The climax for this film takes place in the love hotel that started off this chain of events, but it has been left intact, right down to the bedding. It isn't even safeguarded against theft nor do you see squatters. It was just another irritation for me.
On a scale of 1 to 10:
Artwork           7 (Pretty standard)
Plot                  7 (Equally pretty standard)
Pacing              7 (Moves along in fits and starts)
Effectiveness   8 (Good use of flashbacks)
Conclusion       7 (It reaches a 'coupler point', but hasn't ended)
Fan Service      2 (A similar show would be "Okamisan")
Overall            2½ stars
And remember, it's first run until you've seen it. You can do it.