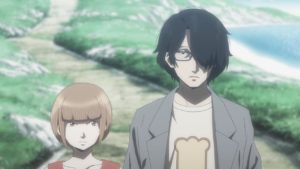 Sometimes, the best crime dramas are the ones that don't apparently start off as one. This is both good and bad, but I would prefer to get lulled into something than know right from the outset where we were heading. Ooops, perhaps I've said too much. Well, that shouldn't detract from your enjoyment of "Subete ga F ni Naru" ("Everything Becomes F" and subtitled "The Perfect Insider"). Don't worry; the title will be made clear as it is also a major clue in the works.
Sōhei Saikawa, an associate professor of architectural engineering (right), and Moe Nishinosono (left), the daughter of his mentor, travel to the very remote Himaka Island to speak with Dr. Shiki Magata. Although the doctor is highly intelligent, she has secluded herself there, amid accusations that, years ago, she murdered her parents. While there, these two work together to solve a pair of murders on the island.
OK, that sounds like typical crime fare, right? And the series is really slow to get started out of the blocks, but it does pick up speed halfway through Episode Two. You are beset by red herrings, misdirections, hidden agendas and tamperings that prevent an understanding of who is doing the murders and why.
One part of the problem is the rather flat nature in which the anime is presented. The artwork is serviceable, but does little more than that. Although they eschew standard anime tropes, there is a palpable blandness to the circumstances, in both art and pacing, as though it is being approached more as a scientific experiment than a crime scene. That means it can get prolix in a lot of what goes down and there is a rather heavy reliance on flashback to clarify the events, but it really doesn't clarify the events. Whether this was intentional or not, I am not certain, but it adds to the confusion and uncertainty of the murders.
Also, like most crime dramas, a key clue or piece of evidence is kept from you, the reader/viewer, that might have tipped things sooner and allowed you to determine the guilt earlier than they did. We also have that "Ten Little Indians" approach that unless someone on those regular runs with supplies comes to the island, and if the radio goes down (which it does), there is no way to contact the outside world for some real help. And you have the fear that someone amid your happy crew is the killer. In some aspects, it reminded me of "Silence of the Lambs", in that rather combative relationship Hannibal and Clarice had. Moe has the same thing with Dr. Shiki, but we do initially see the cat-and-mouse approach to events.
One thing that puzzled me is that rather blasé approach to things. Look, there is a killer on this island. Why are these people targeted? Could WE be targeted? What is anybody going to do about it? I hope you sleep well at night. If you let that pothole fall to one side, you should find a rather compelling series here. This is one that I would suggest for binge-watching, especially since it has concluded, as it may add to the feelings of abandonment and uncertainty.
On a scale of 1 to 10:
Artwork           6 (Really flat)
Plot                  8 (Slow to get started, but does pick up)
Pacing              6 (Almost too much pondering, away from the murders)
Effectiveness   6 (Misplaced, owing to too many ruminations)
Conclusion      8 (It reaches an end)
Fan Service     0 (A similar show would be "Honey and Clover")
Overall            7 (Just a bit of a cheat)
And remember, it's first run until you've seen it. Let me see the tape again.