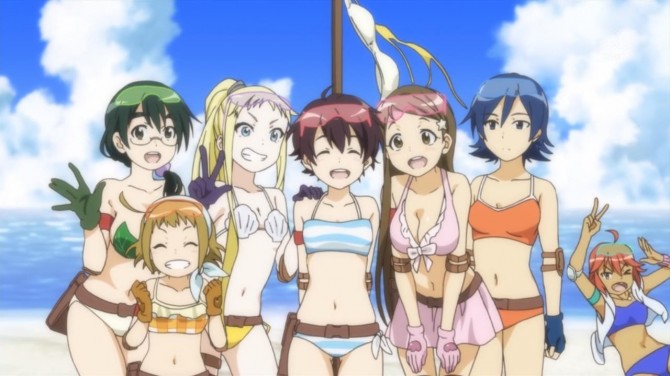 This is another entry into the "Women and Weaponry" genre. We started with "Upotte!" went to "Girls und Panzer" and now we have "Stella Women's Academy, High School Division Class C3", which we'll call "C3-Bu".
Yura Yamato (front and center) has just transferred to the prestigious Stella Women's Academy, but is having a hard time fitting in, as her timid nature and robust fantasies of what could happen seem to take over her waking life, so she is all by herself. She is asked to join the airsoft club, but is scared off by the more forceful members of the club, which include (left to right, as always):
Honoka Mutsu, tactics and logistics
Yachiyo Hinata, sniper
Karila Hatsuse, close-quarters combat
Rento Kirishima, support and back-up
Sonora Kashima, club president and Yura's roommate.
(The photo crasher at the far lower right is a friendly rival, Aoi Seto. We are also NOT going to discuss the two bikini tops acting as flags; save that for the episode this shot was taken from.)
They are able to convince her to join the club with a simulation combat with airsoft guns and some tasty cake as well. She discovers that she kind of likes this (both the cake and the guns) and participates with an ever-growing zeal, but potentially to her detriment.
However, there is a fly in the ointment and that is Meisei Academy with their top ace, Rin Haruna. She and Sonora used to be friends, but had a caliber of falling out and are now rivals, each with a differing philosophy to the activities. Both are very good in airsoft, but one has become ruthless in her pursuit of perfection and nothing will stand in her way.
The series covers about a year in the lives of all these ladies and how they approach airsoft battles. Near the middle of the run, a crisis occurs that threatens to tear apart the club and make bitter enemies out of the dearest of friends. It feels a bit pasted on, as though we needed to have something like this, but the tactics in the airsoft battles are compelling enough to keep interest. Although a 13-run series, the very last episode is part of the Darker than Black Syndrome. It is a totally silly show, placed there, as it wasn't critical to the run of the show, but needed to be told anyway.
Overall, this is one of those 'friendship makes you stronger' message shows, as everyone derives their strengths from the others. We all share the great hopes, we all support the great losses, but we always remain friends….even though I am sniping you with my airsoft pellets. It's not a bad show, but I prefer my drama to come from within and not be created by phantom problems. It was as though we HAD to have things go wrong so we could set them right and then we can all have cake and tea at the end of the day, followed by an airsoft battle. I certainly hope those pellets biodegrade. I would personally feel badly if a squirrel choked on one.
On a scale of 1 to 10:
Artwork 8 (It is a good-looking show)
Plot 7 (It goes slack about two-thirds in)
Pacing 8 (It is built on its pacing)
Effectiveness 7 (Got a bit preachy near the end)
Conclusion 8 (It's a good coupler point)
Fan Service 5 (A similar show would "Maburaho")
Overall 7 (A bit too stern in its lesson)