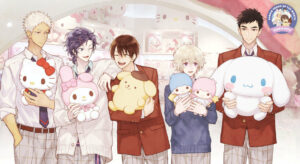 This show is just naked consumerism. It would be akin if Disney had a show about guys who were in love with the Princesses and each one of them followed their personal kink, although the Arielholic and the Bellelunatic would have run-ins all the time:
Arielholic: Belle talks to sheep!
Bellelunatic: Ariel talks to fish!
Arielholic: Yeah, but they answer back!
You won't get that here, but you will get a lot of passion and fervor with "Sanrio Boys".
We start off with Kota Hasegawa (middle). He is the new kid on the block at a new school and he is feeling out of sorts. In order to ameliorate his feelings of uncertainty and loneliness, he brings with him his Pompompurin doll, something that he got a long time ago from his grandmother, when he was a mere sprout. It has gotten him through thin and thick times, although he has not always been nice to it (as seen in a flashback episode.)
He meets good-looking guys at school and slowly learns that these guys ALSO have a thing for Sanrio characters. Our stellar cast is (left to right):
Shunsuke Yoshino (and Hello Kitty)
Yu Mizuno (with My Melody)
Ryo Nishimiya (holding Little Twin Stars)
Seiichiro Minamoto (grasping Cinnamoroll)
Now, these guys are GUYS, and what I mean by that is Yoshino is the ace on the soccer team and Minamoto is Student Council President and head of the archery team, so we don't have any whiny slackers around here. And they are deeply committed to their character obsession. Do they flaunt it? Well, not really, but if you ask them, they would tell you.
The series is all the adventures and concerns these guys have, navigating a world where this kind of 'nonsense' is put away into a chest into the attic, as you have grown up and moved away from childish things.
Now, what I want to point out is that this is NOT yaoi, despite all the references that it might be. Look, I personally see nothing wrong with having a 'thing' for an animated or cartoon character, whether it's Hello Kitty or Ariel or Lara Croft or even Tanya the Evil (although it might be hard to find a plushie of her). Even if I personally revolt on anything from 'Tokyo Mew Mew', I understand the commitment and passion for it.
I also understand that you will be mocked for it. Why does a grown man want to have trinkets and tchotchkes of Sailor Moon…..unless he is a PERVERT!!!! The only thing that really bothered me about the show is that it was an ad for Sanrio, pure and simple, made manifest when they went to Sanrio Land and the biggest Sanrio store in the world and went to some Sanrio presentation and…and…and…
Perhaps this is really a show about understanding. We all have a caliber of void within us and these characters fill that void. And when we find others who share in that world (like at anime conventions), we not only feel a bigger part of the world, but know we are not alone. Yeah, it sounds sappy, but the show is like this as well.
Binging would help the show, as we see the slow character development from Hasegawa, as he has to come to grips with his desire/fetish/obsession and take cues from how the other folks in this entourage deal with and handle how people look at them for what they have their passions for and about.
On a scale of 1 to 10:
Artwork           8 (More delish guys)
Plot                  7 (A tad lightweight)
Pacing              7 (Equally lightweight)
Effectiveness   7 (Need more of a challenge to the main idea)
Conclusion      5 (It reaches a 'coupler point', but hasn't ended)
Fan Service     0 (A similar show would be "Honey and Clover")
Bingeability    8 (Light at first, but builds as it moves on)
Overall            7 (Could have used a touch more bite)
And remember, it's first run until you've seen it. Hello, friends.