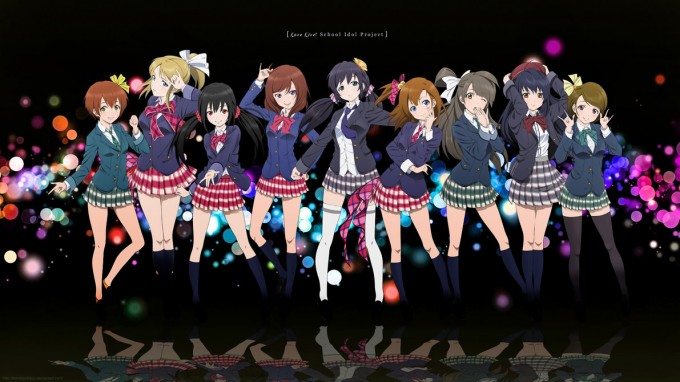 A kind of sister show to "AKB0048" (although more like a distant cousin) is "Love Live! School Idol Project". This tells the story of nine girls who are trying to save their school from shuttering its doors. Otonokizaka Academy has had declining enrollment for years and will not accept new students after this year, allowing those who remain behind to complete their education there, then turning into a Senior Center or a giant fighting robot assembly plant or a Pokemon hospital. Honoka Kōsaka (far left) will do whatever it takes to save the school. But what? What can be done to increase enrollment enough?
She notices that other schools have Idol Clubs and they are both very popular and very successful, the biggest being UTX Academy with A-Rise. WE could do this! She petitions the Student Council to start this club. Alas, the president of the Council, Eri Ayase (the person next to Honoka) is dead set against such a debasement of the school and its standards and will not allow it, even if it could save everything. However, there is a tiny, tiny loophole: Niko Yazawa (number three position; red ribbons in her hair) has an Idol Fan Club on campus and that one is established. It is decided to join her club and slightly change the charter for it, thus allowing them to rehearse. The initial members of the group are Honoka, Umi Sonoda (dead center) and Kotori Minami (gray hair, white ribbon) and they call themselves "μ's" (pronounced 'muse', so you can see why it has to be a nontet), but initially it is a trio. They give a great performance in front of practically no one, but the word gets out and others want to join the group and help the cause.
The show pursues two story lines: slowly building up the group to be nine members and working hard to be in the Long Live concert. The concert organizers are only going to take the Top 20 groups, and that is done via on-line clips and live performances. But with so much pressure on them, can they accomplish their goals?
Much like "AKB0048", this is another music-based, squealing girl show. The difference is that these gals are building a group from the ground up and have no real idea what is needed to be done to make it a success. But the show tips its hand pretty early, so you really are seeing how they are able to reel in the people they need to reel in and what steps they have to take to get where they have to get to, so there are no really great 'secrets' uncovered.
This is more of a diversion show, and, unless you are really into this genre, I would take a break between this and AKB, as you notice a lot of similarities between the two shows.
On a scale of 1 to 10:
Artwork 8 (A good art design)
Plot 6 (Rather standard)
Pacing 8 (Keeps a balance well)
Effectiveness 6 (Some characters seem too pat)
Conclusion 7 (It reaches a 'coupler', but doesn't really end)
Fan Service 3 (A similar show would be "Okamisan")
Overall 7 (Just another music show)
And remember, it's first run until you've seen it. This is Japanese Idol!