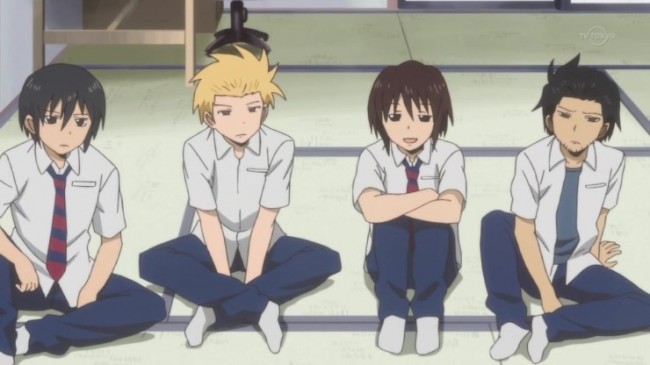 There are a variety of shows that tell a story, but don't really go anywhere with it. I call them "Pointless Shows". They aren't really pointless (not like "Piano", which was an exquisite waste of time), but go nowhere. "Pani Poni Dash" and "Lucky Star" are two, but rarely do you see one with boys.
"The Daily Lives of High School Boys" really is about (left to right) Hidenori Tabata, Yoshitake Tanaka and Tadakuni (the fourth guy up there is Motoharu, but more on him later) and their regular lives. The episodes are really disjointed, in that they don't honestly need to be seen in order and they are presented in 'skits' (for want of a better term) and run between two and seven minutes.
You come to learn that they are just as perplexed about things (especially girls) as anyone else is. The cast is actually much larger and we don't always focus on those three, but the results are more or less the same as they muddle from day to day.
Now, there is nothing wrong with the aimless story approach, as it does free one to chase down any angle they see fit and you know as they grow older, they will grow apart, but the journey getting there is fun to watch. You also see a lot of the malarkey and over-thinking that guys do in relationship to absolutely everything they do. It's a wonder they can get out of bed in the morning, as they are sometimes rather conflicted.
Oh, about Motoharu. Almost forgot about him. He is a member of the student council, but he looks like a delinquent, so people are wary of him. He is a nice guy, although badly bullied by his sister.
There is a sidebar show, "High School Girls Are Funky", which stars female version of Hidenori, Yoshitake and Tadanuki, and they are just as oblivious as the boys are. In fact, all they did was give them longer hair and put them in the sailor suit uniforms; otherwise, it's still the same three clueless guys. The closest you get to a connected story arc comes in Episode 4 with the Cultural Festival, so, for the most part, you get odd situations and lame jokes.
This is a small, gentle show, in that you can see bits of yourself when you were growing up and how these could have been the best times of your life, but you didn't realize it until too late. The show reaches a graduation point, and they could end it there, but enough is still about so that if they wanted to send it ahead or have "The Second Generation", you could.
On a scale of 1 to 10:
Artwork           7 (Rather standard)
Plot                  5 (Kinda sorta)"
Pacing              7 (It keeps a steady beat)
Effectiveness   8 (It tells the story it needs to)
Fan Service     2 (A similar show would be "Okamisan")
Conclusion      9 (It reaches an intelligent 'save point')
Overall            8 (But you have to like this genre)
And remember, it's first run until you've seen it. High school girls are funky.