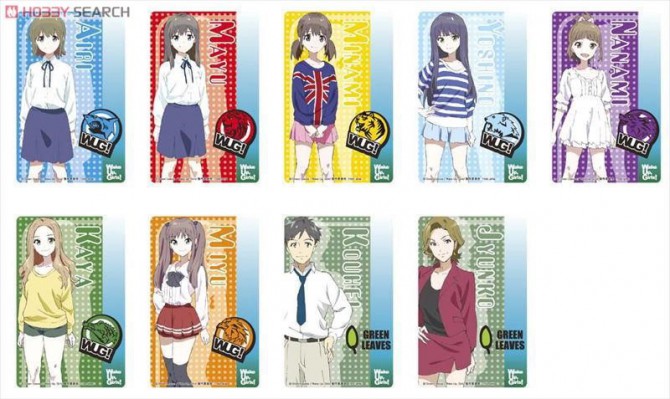 This is another idol show, along the lines of "AKB0048" and "Long Live Project" and it follow more or less the same arc, although presentation is a bit different. The full title is actually "Wake Up, Girls – Seven Idols", but, like them, we'll truncate it to WUG.
We have to start with not the girls, but the group that supports them, which are the two 'adults' (I'll explain later).
Green Leaves Entertainment is a tiny production company on the verge of going out of business. It is located in Sendai, the biggest city in Japan's northeastern Tohoku region, in a rather questionable office building that could double as an auto repair shop. Not particularly inspiring. The agency once managed the careers of magicians, photo idols, fortune-tellers, and other entertainers, but its last remaining client finally quit. In danger of having zero talent (literally and actually), the president, Juynko Tange, (she's at the end there) hatches an idea of producing an idol group. On the brash president's orders, the dissatisfied manager Kouhei Matsuda heads out to scout raw talent.
They somehow manage to slowly accumulate the seven girls who will be their new stars, but they have to mold them into a force to be reckoned with. Starting from upper left:
Airi Hayashida. She has a lot of drive and ambition, but lacks talent and ability. She is good friend of Mayu.
Mayu Shimada. She is the true center, as she was the true center of the biggest J-Pop Group out there, I-1 Club.
Minami Katayama. Recruited after winning a local talent contest, she is always bright and cheerful.
Yoshino Nanase. Known as 'Yoppi', she is a former child actor and model.
Nanami Hisami. She is the youngest at 13 and is constantly practicing, as she always wanted to be an idol.
Kaya Kikuma. The oldest at 18, she joined on a whim, but decided to stay with the group.
Miyu Okamoto. She works at a maid café, so is used to the public and singing.
The show details their rise from seven random people to a real idol group. But you have to watch the movie first. Yes, there is an introductory movie (about two episodes' worth) that really details all the struggles that they went through, getting together, staying together and being together. If you just drop into the first episode of the series, the group is already formed and facing their most serious crises, which is an odd place to start the series…..unless you saw the movie first.
The biggest plot twist is the confrontations with I-1. The reasons that Mayu left are detailed (but cannot be revealed here, as it is a major plot device), but you discover that whereas Jyunko does care for the girls (to some degree), Tōru Shiraki, the general manager of I-1, sees his girls as a business and if you can't cut it with the group any more, you are gone in 60 seconds and replaced with someone else just as fast. This split got a bit tiresome, as WUG are all sunshine and light, but I-1 is just pawns in the hands of a mega conglomerate.
Well, if you like cute girls in flirty outfits doing cute things, you will like this show a lot. If you want a bit more substances, it will leave you lacking, like eating a metric ton of cotton candy. (WARNING! It is NOT recommended you eat a metric ton of cotton candy, as it can cause obesity, dental problems and ants.) And the conclusion of the first season guarantees that a second season is out there as well.
On a scale of 1 to 10:
Artwork 8 (The girls are really cute)
Plot 6 (Seen this approach before)
Pacing 7 (Typical 'we're gonna make it' situations)
Effectiveness 7 (To be expected)
Conclusion 5 (It reaches a 'coupler point', but doesn't hasn't ended)
Fan Service 3 (A similar show would be "Honey and Clover")
Overall 7 (Needed a better coupler point)
And remember, it's first run until you've seen it. Come see us perform.